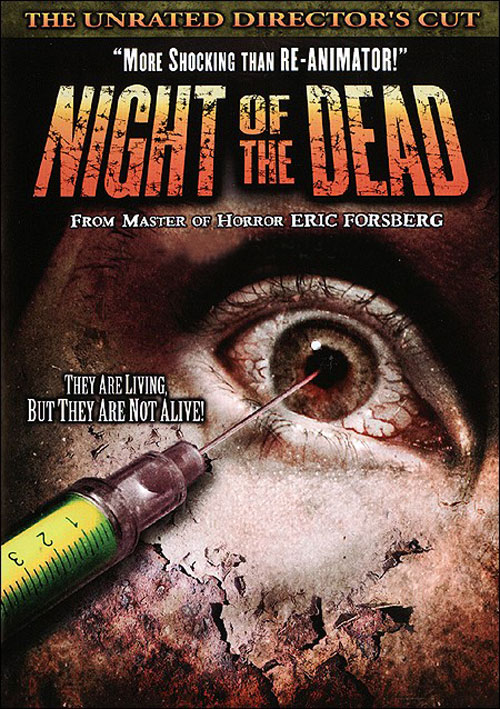 Year: 2006

Duration: 01:29:07
Directed by:  Eric Forsberg
Actors: Louis Graham, Joey Jalalian and Gabriel Womack
Language: English
Country: USA
Also known as:  Night of the Dead, I nyhta ton nekron, Night of the Leben Tod
Description: Obsessed with the idea to make the greatest discovery in medicine and become famous in all over the world, Dr. Gabriel Sherklish, constantly experimenting in his clinic in an effort to bring the "formula of life." And once he manages to create a serum that can revive the dead cells!
To verify the effectiveness of the drug, Sherklish checks it on his terminally ill patients, unaware of how dreadful side effect has the new "elixir of life"… The experiments of Dr. Frankenstein – nothing, in comparison with the experiments of Dr. Sherklisha. His restored to life patients inspire fear even to the most fearless and calm audience!
Well, what will you get by watching the "Night of the Dead….":
mad scientist doctor

instead of CPR, doctor says BEAT DAMN YOU to heart

huge empty hospital

zombie kid

beat tied-up zombie to a pulp

nothing stops a zombie like a NET!
Review: Hmm, just awful. In the sense that in this picture everything is very very bad. Before watching, I thought that this film is something like "Re-Animator", judging by the description. In fact, "Night of the Dead: Leben Tod" was a primitive, disgusting and unfit creation. This film is primitive in everything: directing, script, shooting style, cheap computer effects, and of course acting. It is simply horrible. Yes, and it is unknown are they really the actors or no.
But at the same time, this film has some potential, cause there is still good, though not original, plot, thanks to good music, which creates a scary atmosphere, which, gives that the action takes place in a hospital and it creates a pretty dark and eerie feeling.
Oh yeah, I forgot: in the plot there are also some living deads. Well, in general, not bad, but the make-up is quite awful. Sometimes these characters and even the final carnage look too unnatural in this movie.
Frankly, I hardly finished watching "Night of the Dead" until the end, and absolutely nothing interesting wasn't seen, although there are pictures with far less quality, and with a larger budget.
Screenshots:
Download: