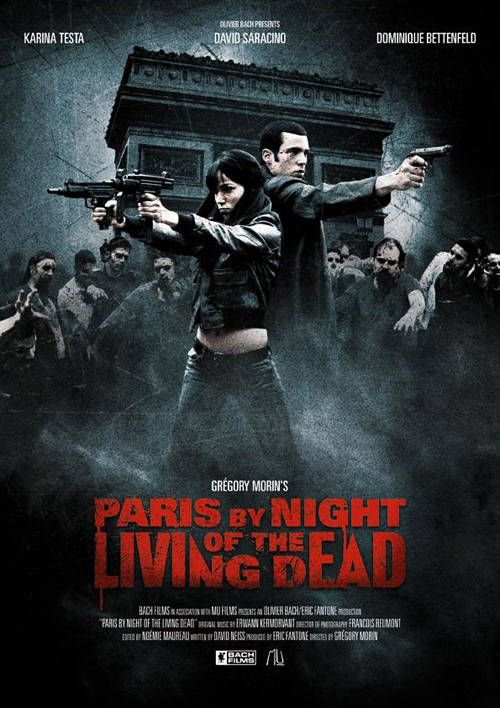 Year: 2009
Duration: 12 min (!)

Directed by: Grégory Morin
Actors: Karina Testa, David Saracino, Dominique Bettenfeld
Language: French | English Soft Subs

Country: Framce
Also known as: N/A
Description: This SHORT, French undead film is a love story. It's a typical undead siege/apocalypse movie. It doesn't take itself too seriously.
A handsome Frenchman and a gorgeous French woman are getting married. The church is overrun as the ceremony concludes. One knows, even without understanding the language, that they have pledged their love "until death do us part," or some such thing. They fight their way out of the church into an overrun Paris. I can't say more without telling the entire story.
The special effects are great. The weapons handling is a little sloppy. For instance, the living fire full magazine bursts into one undead person rather than spraying a large number. Nonetheless, the fight sequences are fun to watch. The weapons get bigger as the chase gets hairier. Just when it seems all is lost, love smears its bloody self across the screen and the story ends happily. ~ IMDB
Personally, I thought the CGI was too apparent, but I wish this was longer than 12 minutes! This 200MB mkv came from a 4 GB PAL DVD, with German subtitles only. They were translated into English with some kind of subtitle editing software by me an hour ago. I'm not sure if this is available anywhere else. I don't think so, and if it is, the English Subs are definitely not in it. So enjoy this way-too-short French Zombie movie!!
Screenshots
Download
Paris By Night of the Living Dead (2009)
Updated/fixed Version! No Green Line when using VLC