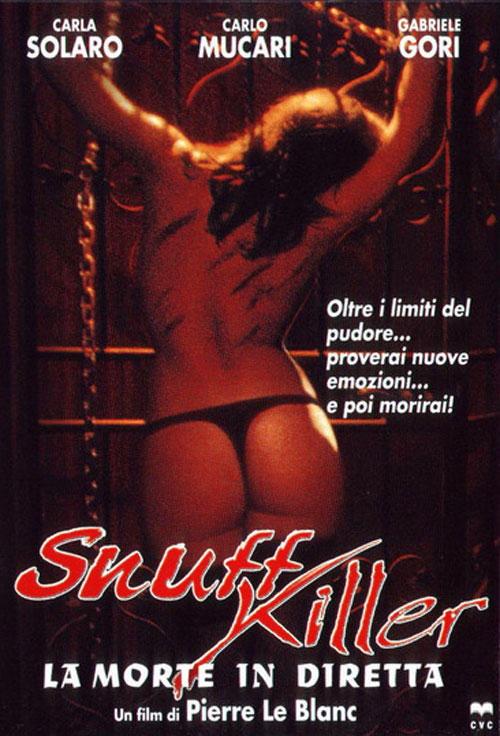 Year: 2003

Duration: 01:27:52
Directed by:  Bruno Mattei
Actors:  Carla Solaro, Gabriele Gori and Carlo Mucari
Language: English
Country: Italy

Also known as: Snuff Killer – La morte in diretta, Snuff Trap – Die Kamera läuft
Description: When the unknown kidnapped in Paris a young beauty Lauren, her mother, fearing publicity and scandal, goes off in search of her. After learning that her daughter could become a victim of people who film porn with real murders (also known as snuff), Michelle boldly plunges into the dark world of shocking secrets and feelings, unknown to ordinary people. She will have to see what she could not imagine in the worst nightmare and just forget about the fear she could save her only daughter …
Review: In the twilight of his career, the Italian horror master Bruno Mattei (the director who also filmed Mondo Erotico and Our Lady of Lust) decided to appeal to current and not hackneyed theme snuff. The first half of his work seems to be interesting. Moreover, the film adds points and actress erotic movies Carla Solaro, who at 40 looks amazing. But here in the second half of Bruno Mattei decided to recall his dashing youth and steal plot moves and dialogue from the very successful psychological detective Joel Schumacher's "8mm", also dedicated to snuff.
As a result, reasonably interesting thriller degenerates into blatant plagiarism, for which Schumacher could well apply to the court if he had seen the film Mattei. Becomes even hurt an Italian. Indeed, in his work, along with garbage, there were also clear diamonds.
However, in comparison with the subsequent mindless horror behind "Earth cannibals", "The Forbidden Video" still wins, as it is not boring, and shot at a full-fledged film. Better from a 71-year old at the time the director and does not want. And that took off thanks.
Screenshots:
Download: