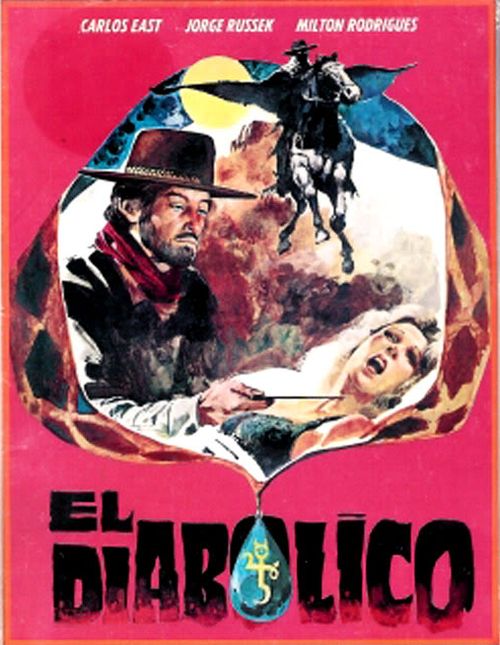 Year: 1977
Duration: 01:33:58
Directed by:  Giovanni Korporaal
Actors: Carlos East, Jorge Russek, Jorge Humberto Robles, Odila Flores
Language: Spanish (English subs)

Country: Mexico

Also known as: The Diabolical One
Description: In the quiet little town of the Wild West there was a terrible tragedy. A gangster Dave Boland robbed a local bank and kidnapped his daughter director. Later we learn that this is not a man, as a Satanist, the neck of which hangs a magic medallion, which gives him supernatural powers. He rapes and kills the daughter of a banker, leaving her breasts burned sign with the medallion. The banker is doing everything to find the killer and the sheriff catches Dave in the arms of the local whores, he also managed to mark this sign. However, the execution did not take place: for a few seconds before hanging Dave with his supernatural ability to get to the poor Oscar to shoot the rope and together they go on the run. However, during the chase Dave was seriously injured. In the cave, he asks Oscar to take revenge for his death in the name of Satan and gives him a medallion. Now, this is the sad sack Oscar became a skilled marksman, and the inhabitants of the same town will be in awe expect new rapist Satanist …

That – a-ak , in 1977, Robert Rodriguez was only nine years old, was to be his right hand to make this film , he could not … I really like is the brainchild of Giovanni Korporaala at what decades later began to indulge in " Desperado " the impression that a certain spirit that arose during the shooting of «El Diabólico» found refuge in the head while very young Mexican and began to be implemented soon as he gained access to the camera. However, what I'm saying ! Senor Rodriguez with all the tumult of his imagination has always been a good Catholic , while the film was born in Holland Korporaala thoroughly permeated Byronic demonism and total negation of Light. No, this movie could never get out of the hands of Rodriguez. But to be born in the second half of Mexico 's 70 , almost level with an equally wicked " Alucard " Moctezuma – it please. Looks like some kind of vibes in the air tamoshnem Elongated or livestock succubi suddenly increased.
Actually , «El Diabólico» – Western . With a classic lone hero , deftly shooting of Colt , robbing banks and stagecoaches and fend off a whole crowd of enemies. That only leads and guides the hand of Oscar Peterson no less a person than the devil himself . Vowing to Satan's name and adopting from dying out devil Dave Bolland mysterious amulet former shoeshine boy and urban Fool Oscar wave of Evil Forces turned into a formidable and elusive El Diabólico, stop that can neither one Texas sheriff . Unaware of pity , not tormented by remorse Oscar rob, kill , betray and sell vedómy próklyatoy thing. Demonic black knight also dostvshiysya hero inherited from Bolland , comes to the rescue in the most desperate situations …
But all this – the external content of the plot, which is actually a quite traditional quest. The hero must fulfill the terms of the oath – to avenge the killers Bolland . But the realization – it is entirely merit lord Korporaala . The film he was a really atmospheric and stylish , full of some demonic charm, addictive quicksand gloomy images and symbols. A minimum of dialogue, long takes , oppressive staging suddenly exploding hurricane action … If it happened today , I would say that the film was shot in klipovoy manner, but the court -that was 1977 , the year when another of a similar question did not go . «El Diabólico» really has some devilish charm : maybe the fact that the blackest black protagonist here there are no opponents . That is a positive hero , even pale and unpretentious , the film is not at all. There are only communicating the characters and victims , which is not that sympathize – they notice something hard on the background of gloomy figures for most nowhere Oscar. There is a true " passive " way dumb Indian Tana that Peterson once saved from certain death , and to which he always returns despite his betrayal. And this character , of course, adds the film " gothic " lyrics, but is unlikely to outweigh its "dark" side. Giovanni Korporaal leaves the viewer a choice – he just has to with bated breath to follow the fate of the hero possessed by the devil , heart and soul which burns only one purpose – at any price he must kill those who once killed his predecessor. Amulet fills his power and requires more and more victims , a huge black horse is leading to new and new crimes , money comes and instantly disappear – as long as the terrible oath is fulfilled Oscar can not find peace . And when that is done – the devil finds a new home …
Classical ideas of romantic literature , realized in the form of popular in the 70s of the last century with the help of western futuristic for the time given pictorial means a very unusual result. Maybe even too fancy . Anyway picture Giovanni Korporaala not widely known ( at least such as " Alucard "), but the way … I almost wrote – Lord ! No, God in this film there is no trace . Devilish mysterious ways … Maybe «El Diabólico» still ahead .
Screenshots:
Download: