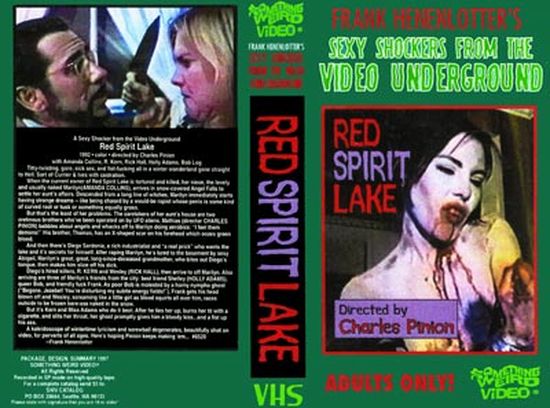 Year: 1993
Duration: 01:20:28
Directed by: Charles Pinion
Actors: Annabelle Davies, Holly Adams, Rick Hall, Tessa Hughes-Freeland
Language: English
Country: USA
Also known as: 
Description: When the current owner of Red Spirit Lake is tortured and killed, her niece, the lovely and usually naked Marilyn (AMANDA COLLINS), arrives in snow-covered Angel Falls to settle her aunt's affairs. Descended from a long line of witches, Marilyn immediately starts having strange dreams – like being chased by a would-be rapist whose penis is some kind of curved root or tusk or something equally gross.
But that's the least of her problems. The caretakers of her aunt's house are two cretinous brothers who've been operated on by UFO aliens. Mathias (director CHARLES PINION) babbles about angels and whacks off to Marilyn doing aerobics: "I feel them demons!" His brother, Thomas, has an X-shaped scar on his forehead which oozes green blood.
And then there's Diego Sardonia, a rich industrialist and "a real prick" who wants the lake and it's secrets for himself. After raping Marilyn, he's lured to the basement by sexy Abigail, Marilyn's great, great, long-since-deceased grandmother, who bites out Diego's tongue, then makes him slice off his dick.
Diego's hired killers, R. KERN and Wesley (RICK HALL), then arrive to off Marilyn. Also arriving are three of Marilyn's friends from the city: best friend Shelley (HOLLY ADAMS), queer Bob, and friendly fuck Frank. As poor Bob is molested by a horny nympho ghost ("Begone, Jezebel! You're disturbing my subtle energy fields!"), Frank gets his head blown off and Wesley, screaming like a little girl as blood squirts all over him, races outside to be frozen bare-ass naked in the snow.
But it's Kern and Miss Adams who do it best. After he ties her up, burns her tit with a cigarette, and slits her throat, her ghost promptly gives him a bloody kiss…and a fist up his ass.

Screenshots:
Download: