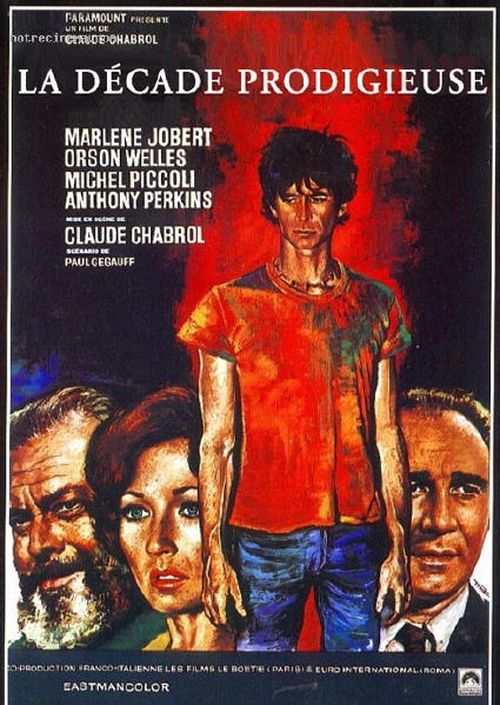 Year: 1971
Duration: 01:44:17
Directed by: Claude Chabrol

Actors: Anthony Perkins, Michel Piccoli, Marlène Jobert

Language: English
Country: Italy, France

Also known as:   La década prodigiosa,  10 Dias Fantásticos,Ti dages frist,La década prodigiosa,Pimeä kuilu,To dekaimero tis akolasias,A tizedik na,Dieci incredibili giorni,Dager i grenseland,Dekada strachu,A Década Prodigiosa,Tio dagars under,Ten Days Wonder,Der zehnte Tag
Description: Charles, son of a wealthy bourgeois Theo van Horne, falls in love with his young stepmother Helen – and for three, and for visiting guests Professor Field Regis, a friend of the owner of the house, there comes a monstrous decade, the outcome of which may be unpredictable.
Once again in adapting the American detective (in this case, the product of two authors under the pseudonym Ellery Queen), French Director Claude Chabrol (Alice or the Last Escapade and Dirty Hands), being definitely a moralist, testifies about customs and vices, latent desires and criminal intentions, dangerous offences and неотвратимом punishment. However, choreographer interested in this at times strange and bizarre game of cat-and-mouse not only psychology and motivations of the actors, but the quirky atmosphere going, as well as our own ambitious research in the field of aesthetics, fine delights, visual beauty and cinematographic finds.
Usually Chabrol more strict and laconic, not allowing himself stylistic excesses. Here his secret passion for original creative «gluttony» (though everyone knows the big love to the Director in a real life, tasty and healthy food) is out of control – and the author, like his hero juicy performance of the famous American actor and Director Orson Welles, decided how would carousing plenty during this «magnificent decade» (by the way, it is possible and such translation of the name).
Review: Another forgotten cinematic gem from 1972, TEN DAYS WONDER is a film by Claude Chabrol (or rather, un film de…) and stars Anthony Perkins, Michel Piccoli, Marléne Jobert and Orson Welles. What a cast! I'm not too familiar with Chabrol's work, but from what I gather, this one is a bit more stylized than his typical fare. Even tho the film is a French production, all the dialogue is in English. The opening scene opticals and sound design is very psychedelic and bizarre. Gotta love those snippets of strange seventies cinema!
This movie has a great pay-off which I won't reveal here.  Anthony Perkins is wonderful as the boyish and awkward Paul Van Horne.  Orson Welles is perfectly at ease as the bombastic and domineering father and Michel Piccoli is just too damned cool for school!  All Michel Piccoli has to do is show up and nod and he owns the scene!  Neat little film that has been sadly neglected – I'm really surprised it doesn't get any more attention than it does.
Screenshots:
Download: