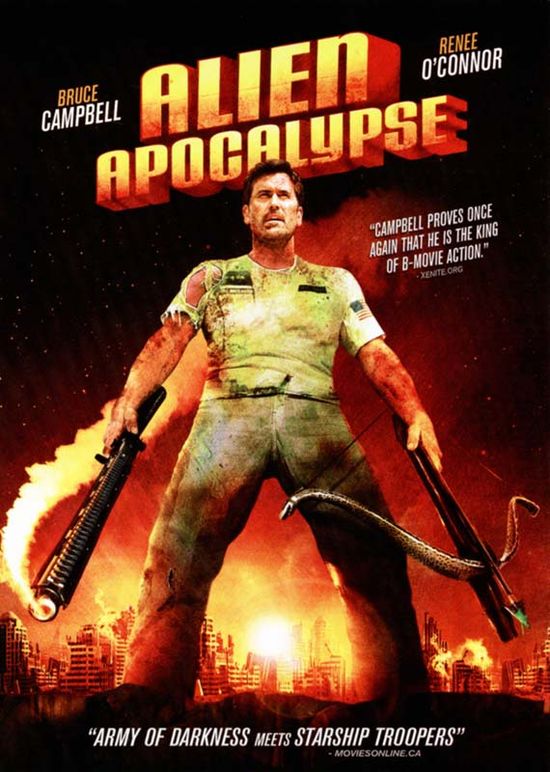 Year: 2005

Duration: 01:28:05
Directed by: Josh Becker

Actors: Bruce Campbell, Renee O'Connor, Remington Franklin

Language: English
Country: USA
Also known as:Humans in Chains, Apocalipsis, Alien: I apokalypsi
Description:  The painting " Alien Apocalypse " tells us about what will happen to the human race in the near future. This film is a comedic parody of the " Planet of the Apes " and " Battlefield Earth ."
Astronauts after the long journey back to Earth , but the Earth is not the same as it was before. Cities are destroyed, survivors into slavery , they were forbidden to speak , and they work all day at the sawmill to the new owners , newcomers – termites. From the entire team of astronauts living are only doctor Hood with his girlfriend , but they are captured .
Dr. Hood ( Bruce Campbell ) does not want to be a slave and comfortable escape, and then begins to gather people to fight the aliens. Now in his hands the fate of the survivors , he must heal humanity! But things are not so simple , mankind over the years it is degraded , it is afraid of the invaders and does not want to deal with them. Earthlings believe in President Demsky , which sits in the high mountains , and gathers an army of freedom. Hood with a pair of daredevils , going a long way in the mountains reveals the president. Unfortunately, he is frail old man, all day risuyuschim paintings in his bunker and did not think about the fight for freedom. The Doctor realizes that he can now hope only for themselves and the newly acquired friends .
Scenes biting heads and fingers of eating termites look very horrific shooting people with parasites are removed very efficiently.
Movie gives flavor phrase: "I am here is the oldest – How Much Do You ? – I'm twenty-five , "" Glory to the great healer "," The president is alive "," I'm an osteopath – learn how to mate slugs . – I've always wanted to know how they do it , "" He did not heal – it will only lead . " Funny following: praying termites , ridiculous military equipment aliens , dwarf , a giant anthill , talk parasites.
The actors in this film are very pleased with his play . That only is a Bruce Campbell ! He is here at the height , as always, and great fights . Renee O'Connor is also good as a friend Huda . Still loved Remington Franklin as a wise companion healer. Michael Cory Davis is well remembered in the role of an astronaut who was tragically killed , and the old man , Peter Jason beautifully played by the U.S. president.
Conclusion: The picture has a small budget , but the time is good for content, it makes sense , and after watching is something to think about.
Review: 
Screenshots:
Download