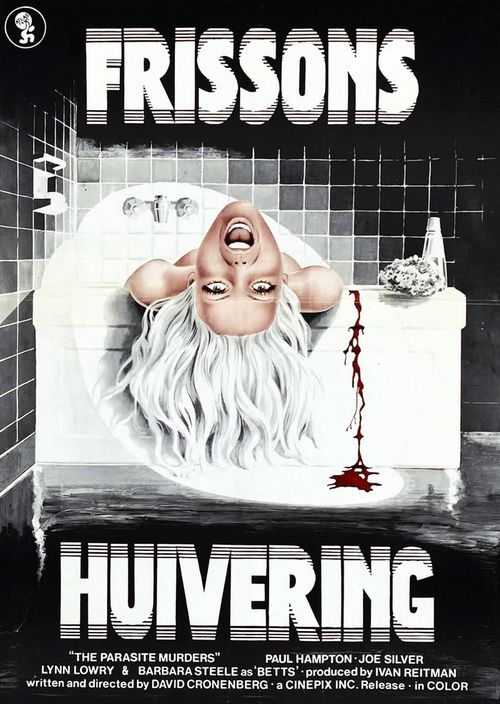 Year: 1975
Duration: 01:24:11
Directed by: David Cronenberg
Actors: Paul Hampton, Joe Silver, Lynn Lowry
Language: English
Country: CANADA
Also known as:Frissons, Huivering, Parasiten-Mörder, Cronenberg's Shivers, Ürpertiler, Anatrihiles, Calafrios, Dreszcze, Epidemia, Frossa, Il demone sotto la pelle, Kylmät väreet, Orgy of the Blood Parasites, Os Parasitas da Morte, Parásitos mortals, Paraziták, Hitokui seibutsu no shima: Nazo no seimeitai daishûrai, Shîbâsu: Hitokui seibutsu no shima, The Parasite Complex, The Parasite Murders, They Came from Within, Vénen de dintre de…, Vinieron de dentro de…
Description:The result of a failed medical experiment becomes the appearance of the light in one of Montreal settlement of unknown creatures that are penetrating into the human body, turn it into an insatiable sexual beast. The epidemic started…
Horror film «Shivers» of 1975 is the first truly popular work of the iconic canadian Director David Cronenberg, for which this picture became a full-fledged debut. In «Convulsions» first appeared themes which subsequently become basic in the work of the Director, namely themes different bodily(and not only) mutations, as well as the theme of unity of Death and Sex, and Eros in the film gained frankly monstrous, and almost Lavkraft view. Still erotic exercises in the film, shot by the operator Robert Saad intentionally asexual and repulsive, Director for very originally projected to film the event of sexual Orgy 60-70-ies, showing the animal essence of the sexual instinct. In fact David Cronenberg exaggerated showed in the film the consequences of sexual freedom, clothing it in the horror genre boundaries.
Starring in the ribbon busy not very well-known actors, from which Cronenberg (director of Dead Ringers and Nightbreed), however, achieved a very compelling game, although highly charismatic characters in the film all the same can not boast.
The film has a stunningly intense and creepy atmosphere that is wonderfully creates an unusual direction and stylish camera work, and the almost complete absence of the soundtrack, amplifying the effect of realism.
I recommend this film to all fans of horror movies and thrash metal, as well as connoisseurs of art by David Cronenberg.
Review: I saw this movie when I was thirteen (it was rated R but I was big for my age) and all I really remember is the nudity. Just to be fair, I watched it again. I missed a lot. Some scenes are reminiscent of NIGHT OF THE LIVING DEAD, but these zombies don't want to eat your flesh. These zombies want to get it on! SHIVERS is a good movie. I give it four shriek girls.
Screenshots:
Download: