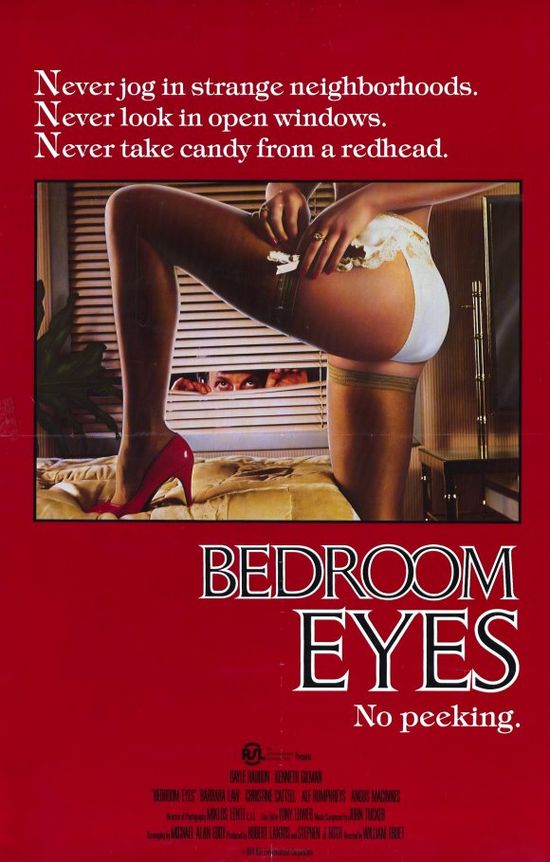 Year: 1984
Duration: 01:29:41
Directed by: William Fruet
Actors: Kip Gilman, Barbara Law, Jayne Catlin
Language: English
Country: Canada

Also known as: Perigosa Intimidade,Plaisirs mortels,Ojos Indiscretos,Yön todistaja,Oczy sypialni,Olhos Indiscretos,Ne kukaj v tuja okna,Der Zeuge der Nacht
Description of Bedroom Eyes: Harry Ross is a handsome, successful stockbroker in his 30's who likes to jog in the evenings to relieve the tensions of his hectic work schedule. Late one night, while jogging down a deserted side street, Harry catches a glimpse of the embodiment of his fantasies – a red-headed woman so seductive and yet so tantalizingly elusive – that he is compelled to return night after night to gaze at her through the window.
When the object of his desires is mysteriously murdered one night, Harry's fantasy becomes a nightmare, as he becomes the prime suspect. But Harry can't even seem to remember if he is innocent, or not …
Review: The movie "Bedroom Eyes" by Canadian director William Fruet (Blue Monkey and Spasms) appeared in the same year with the same film "Body Double" by Brian De Palma, and not in 1986, as noted in a number of American directories (that's when it came out in theaters USA). And this tape is a pleasant surprise – not only with its original intrigue. American critics were quick to note that it was taken in the new sub-genre – "frivolous yappistskoe porn."
Indeed, the character named Harrison Ross is a stockbroker, a typical yuppie, that is, the young urban professional. He likes to run in the evenings and one day spying unusual erotic games through the window of a house. This voyeurism (looking at other people's sex) so exciting Ross that he was forced to return each evening to the alluring window. But becoming an unwitting witness to a strange crime, Ross falls under the suspicion of the police, and can only rely on the help of a psychiatrist women JoBeth Barents, who knows the real reasons for his stay at the house where the murder occurred.
Unlocking with the main characters of the mystery of what happened in the bedroom window, you get the pleasure and also on the manner of the story – an ironic, sometimes comedic, but also from a sense of cinematic style. So what to porn, this picture is, of course, has nothing to do. And the existing erotic scenes shot does not openly and not
Screenshots:
Download: