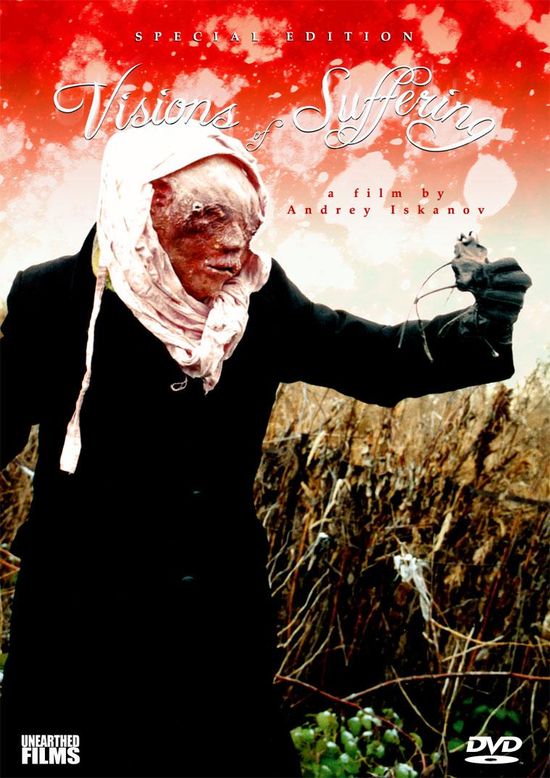 Year: 2006

Duration: 01:32:48
Directed by: Andrey Iskanov
Actors: Igor Anikin, Alexandra Batrumova, Yukari Fujimoto
Language: Russian with English subtitles

Country: Russia
Also known as: A szenvedés víziói
Description: Take a smidge of SILENT HILL, a bit of David Lynch's ERASERHEAD, a little bit more of H.P. Lovecraft, quite a lot of TETSUO: IRON MAN, an eerily John Carpenter-esque score, a ton of frenetic modern music video-style editing — and you're almost close to VISIONS OF SUFFERING. This is the film you might have made in college, the one you and your mates always talked about while you were stoned, but never followed through. And, surprise surprise, it's just as fucked up and incoherent as you imagined, except far worse.
Non-euclidian geometry, amateur, stop motion animation, hot goth chicks, really strange sound design, melting telephones, vampires, dead fish, floating brains, more shitty, funny looking Russians in trench coats, lots of blood and (terribly fake but sincere) gore, and psychedelic color scemes all collide in a two hour orgy of non-stop high intensity weirdness.
I can't say that it's entirely watchable in one go, but it's definitely something else to have on while you're sitting on the couch.
Quite atmospheric and quiet tie all on the same text and the minimum specific " otherworldly " images , soon completely chokes free "terrestrial" art abstraction , sometimes deliberately rough , sharp and provocative , but not the most interesting to watch. Long and mostly stupid club- freaky cutting overtly vybeshivaet stroboskop effect by the middle of the film begins to make extremely tedious and tighten spectacle than actually prepares the viewer for the same suffering, said in title. Trace the story at some point it becomes quite impossible , so that remains to focus on a set of somehow twisted together kreyzanutyh individual scenes , to bring that common denominator is not easier than dissect without Lynch's Mulholland Drive prompts.
In this regard, most adequately consider Visions not a movie as such, but some distinctive and self-contained museum exhibit of underground dungeons acid , which is convenient for the selected niche dreams / myths / hallucinations automatically dictates and justifies the notorious triumph of form over content .
Screenshots:
Download: