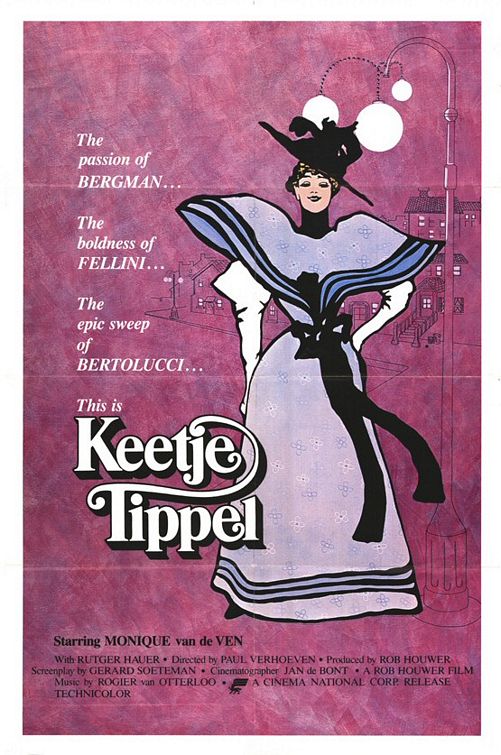 Year: 1975
Duration: 01:45:30
Directed by: Paul Verhoeven
Actors: Monique van de Ven, Rutger Hauer and Andrea Domburg
Language: Dutch
Country: Netherlands
Also known as: A Girl Called Katy Tippel, Cathy Tippel, Das Mädchen Keetje Tippel, Forró verejték, Hot Sweat, Katie Tippel, Katie's Passion, Keetje Tippel, Kitty Tippel… quelle notti passate sulla strada, Moiraios erotas, O Amante de Kathy Tippel, Sudor caliente, Una novia llamada Katy Tippel
Description: The film is an autobiographical story of Keetje Niilit Doff, which for her work was nominated for the Nobel Peace Prize and the Goncourt Prize. To earn money for her family, country girl became an Amsterdam prostitute. With a strong character, she breaks in selected segments of society.
Review: Memoirs of Keetje Nel Doff (1858-1942) – Dutch girl from a poor family with many children, endured troubled times at the turn of XIX-XX centuries – have been nominated for the Nobel Peace Prize and the Goncourt (early twentieth century) and served as the basis for the creation of this picture. Kete (the name itself and Nel Doff) trying to survive the realities of urban life, and do not take the last position in the society, even though she had to prostitution to feed their families. She will meet with different men, until it hits the elect.
After the acclaimed film "Black Book" Paul Verhoeven, this work was hardly perceived by European censorship already zaimevshey tooth for a director to convict him of immorality and commitment to pornography (though explicit erotic scenes are not so much). But Paul Verhoeven rehabilitated following patriotic ribbon "Soldier of the Queen" about Dutch heroes of the Second World War.
Screenshots:
Download: