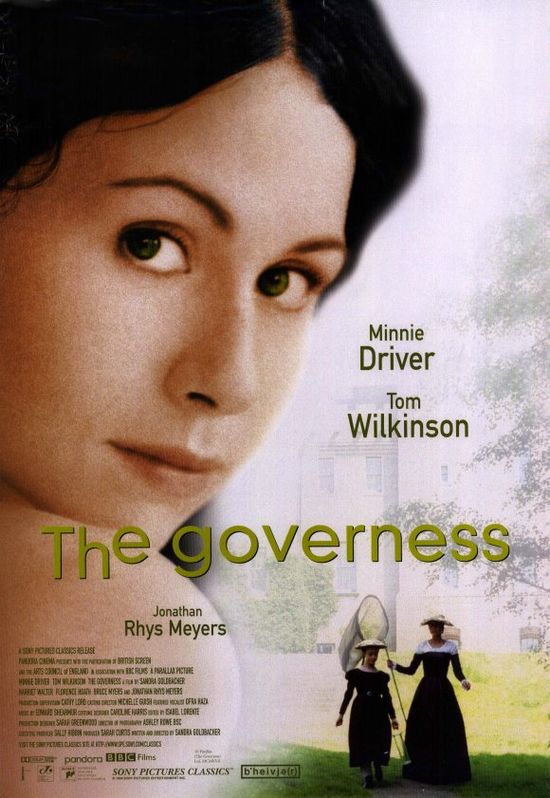 Year: 1998
Duration: 01:54:24
Directed by: Sandra Goldbacher
Actors: Minnie Driver, Tom Wilkinson and Harriet Walter
Language: English
Country: UK
Also known as: Özgür ruh; A nevelőnő; Kotiopettajatar; La governante; La institutriu; La institutriz (The Governess); La institutriz amante; Retrato de Uma Preceptora
Description: "The Governess," I was struck by his passion, unpredictability and intensity. The entire film is reminiscent of the situation in the home Rosina: these wild color combinations, heavy drapes, bright stained glass windows. Add a special flavor to national motifs, this merry dance at a party in the beginning, rituals, costumes, music. The film is aesthetically pleasing very successful combination of incongruous things: love of a young beauty to the ugly old man, purity, and at the same time depravity Henry, innocent little Clementine c her fascination with all sorts of gothic passions, etc. Everywhere and always face the two worlds.

Very good script , a great role of Minnie Driver . But ! Absolutely hideous choice for the role of Mr. Cavendish's old and terrible actor. Look – and you wonder where it's Rosina is killed in this old bastard , when the hand is such a beautiful and seductive young man, son of the owner in the performance of Jonathan Rhys Mavis ? Very rough out the discrepancy . A good story and a good idea to sagging because of a bad choice for the lead role . Is it so hard to invite the charismatic actor of the age ? Jeremy Irons, Mel Gibson, and a bunch of actors with beautiful appearance and a strong charisma .
And it is impossible to see how young and pretty Rosina killed by warty toad . No, the idea of ​​the film Governess is clear: "And why do we love those who are driving us ? ". But you also have to fall in love at first for something. After all, the heroine – a Jew , as in Judaism had a strict upbringing. Give the man outside of marriage – it had to be really really love . And to be embraced by passion . But the passion between Rosina and warty toad, I never saw him. Rather, it looked like a bargain – I give you the body – you – me thing (photo) .
It is unfortunate that ill-defined line of Cavendish's son . Just what it is worth . Traitor, vile impostor Cavendish – and in contrast to his son , a young , beautiful soul of the young man . It is strange that Rosina continues to love first . Love – the feeling is not eternal . Some little regard for themselves , to love geeks .
Unfortunately , the upcoming film adaptation with George Lopez, where they want to restore justice ( treason for treason ) is not going to be better – if only because of Lopez .
Screenshots:
Download: