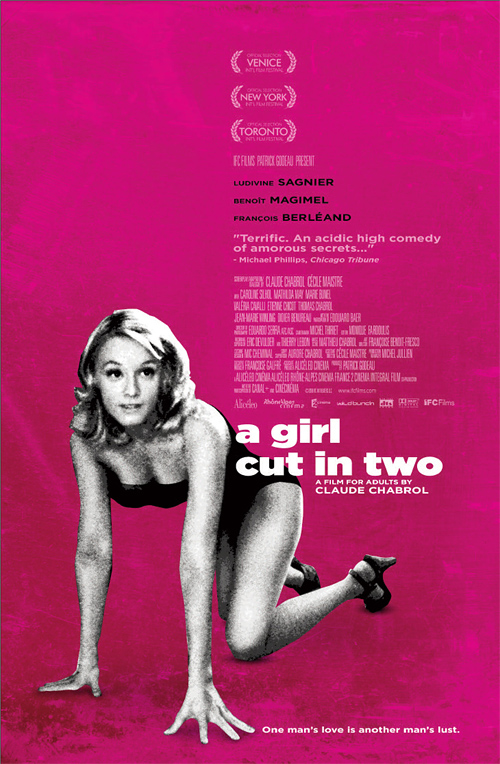 Year: 2007

Duration: 01:55:03
Directed by:  Claude Chabrol
Actors: Ludivine Sagnier, Benoît Magimel and François Berléand
Language: French (English Subtitles)

Country: France; Germany

Also known as: La fille coupée en deux; Die zweigeteilte Frau; En flicka i två delar; Ikiye bölünen kiz; L'innocenza del peccato; La mujer partida en dos; Una chica cortada en dos; Una dama para dos; Una mujer partida en dos
Description:
The plot ща A Girl Cut in Two is based on real story of the criminal chronicle of the last century. Chabrol changed the names, professions heroes and added some details.
Old writer Charles St. Denis (Francois Berléand) lives with his wife and mistress-agent. Women between themselves and get along well. And he attends a private club, where for the rich suit different orgies. Perverse and tired of St. Denis unexpectedly flames passion for young presenter Gabrielle ( Ludivine Sanya). The answer seriously falls in love and begins to wait for the St. Denis divorce and marry her. Along the way, she is bothering her young admirer – spoiled millionaire Field
The history of the beginning of the 20th century about the famous seductor, windy chick and fun vicious passions, Chabrol turned into a long-winded cabin vaudeville. By the time the long-awaited shot movie manages to feel tired and hopeless naivety Gabrielle, which sometimes borders on stupidity, – irritate. Well come on, who-who, and French cinema about the love of the young maidens to married able to shoot much more deeply and painfully. But Mat Chabrol puts even it all together. Between actors no eyes at all. No way and under any angle. So more or less plausible heroes look separately, when one of them in the grave, the other in prison, and the third with eyes red from crying in the bedroom window.
Berléand the whole film wanders with an indifferent face. Only dialogue with Gabrielle, where he skips some no sincerity: «I'm Sure I'm not the first woman who has been in this bedroom. – But, perhaps, the last.»
But Benoit Magimel seats issues of this mad look. Impressive. But this situation in General, alas, does not save.
Screenshots:
Download:
A Girl Cut in Two CD1 (English Subtitles)