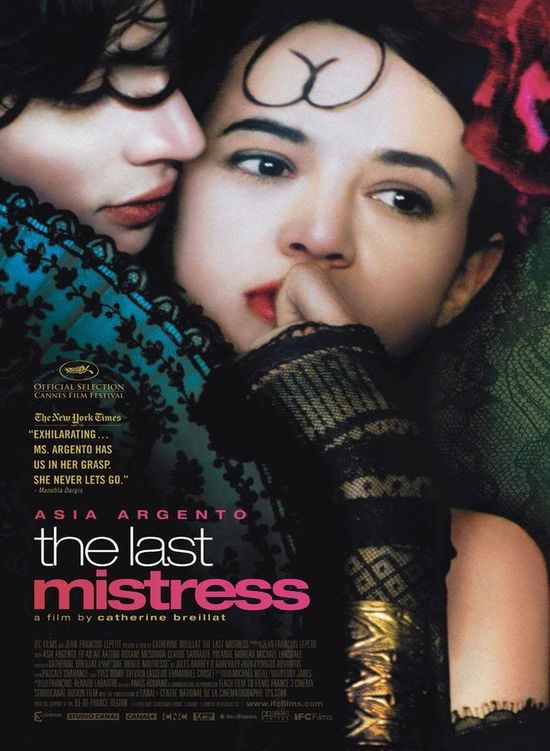 Year: 2007

Duration: 01:49:38
Directed by: Catherine Breillat
Actors: Asia Argento, Fu'ad Aït Aattou, Roxane Mesquida
Language: French (English Subs)

Country: France | Italy

Also known as: Une vieille maîtresse, A Última Amante, An Old Mistress, Az utolsó úrnő, Die letzte Mätresse, I eromeni, Metres, Stara kochanka, Uma Velha Amante, Una vieja amante
Description: Marquis Fleur decides to marry her granddaughter, pearl of a noble aristocratic family,  for a nobleman Reno de Marigny. He sincerely in love with a charming creature, yet never misses a beautiful skirt.
Marquis Reno learns the secret: this is an incorrigible philanderer secret lover and a victim of a scandalous courtesan, daughter of the Duchess and bullfighter. Will Reno mind win over his passions? Whether to keep Marigny faithful bride?
Review: This film – is not what I expected after reading reviews about it. Comparison with Don Juan's adventures "Valmont" knocked me up, and I sat down to watch "secret lover" expecting to see another tangle of intrigue Paris light era of the 18th century.
Actors. Fuad Et Aatu I was pleased. Very badsome acting. He is known primarily as a model of popular menswear designers. It is hard to judge him, because in other moving picture I have not met, but the talent he certainly has.
Asia Argento at the top! In all. I can not imagine anyone in the role of a temperamental and capricious Velino. It was created for this role or that role is created for it – it does not matter. Argento fully identified his character, opened it, made brighter and merged them together.
On the plot. The film is not about loving young rake, from a noble family, to perform internal transformation in the way the image of an exemplary family man, a faithful husband, as it might seem at first glance. No. Here involved only three key players: Reno de Marigny – a young nobleman, weary; Velin – kept woman in an elderly English baronet, with a scandalous past, called boredom Marigny (maybe yours?) And finally Germangarde – a young lady who destined to become the victim of a love triangle.
It all begins with a straightforward separation of the two lovers, but then, throughout the film, we are immersed in memories of Marigny with him. His story – that's 10 years that he must escape the shackles of his life, for the sake of a new love in wedlock with a chaste woman of high society. So that future wife's grandmother, the Marquise Fleur was calm, Marina decided to open conversation, assuring that the scandalous courtesan Velin him nothing in common. However, unknown to himself, he is immersed in the past, over and over again in his mind back to his passionate Spaniard.
His account of course of Velino. From feelings of sudden, before just as suddenly grown wall of alienation between them. He survives 10 years again. And he can not understand – whether it's love, or can a passion that seemed so easy to plug a flash, then fades. He admits that "it is not the woman that is to be made." But strangely morbid attraction to it, with a bang too sore for him. Inexorably drawn to the former mistress, forcing myself to break this word – faithful Germangarde. He is in the same river twice, paying a price.
Character. Velino. As he said himself the protagonist of "it all makes an impression which is fighting the others." At first she pushes her appearance somewhere immoderate temperament somewhere outright rudeness – features unusual ladies of high society. But it is not an aristocrat with an unblemished reputation. She is a woman who is indifferent to idle gossip and chatter of the crowd, the one who cares not long ago about his name and does not suffer from this. The lady with the "shady past", she lives in infamy, but has a sense of pride and dignity. It is no one pretends she does what she wants, gets what he wants, just talking about his secret desires, without falsehood and hypocrisy, such habitual in high society. It is changing. Her unbridled enthusiasm and fervor of Spanish could outshine the sun.
Reno de Marigny. Female, frustration, boredom (in that order) – it's part of his everyday life. He is spoken of as an immoral libertine adventurer, who deftly "handles" of girls and women. But here he gets placed in the network Velin, falls on their own, and became a rag doll, reporting her passing whims and passions.
Screenshots:
Download: