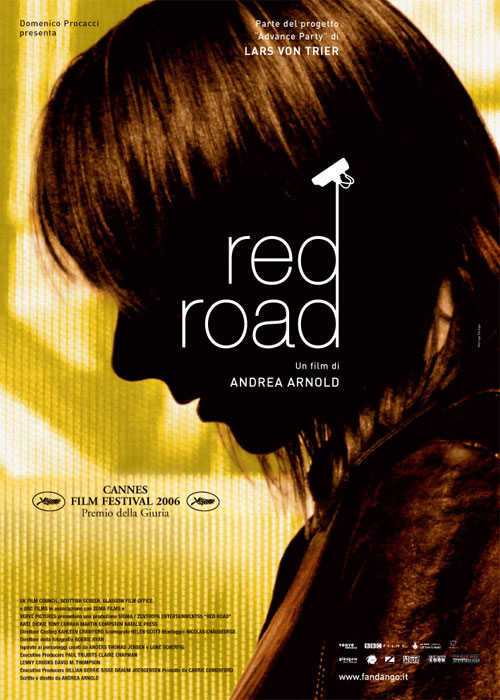 Year: 2006

Duration: 01:49:37
Directed by: Andrea Arnold
Actors: Kate Dickie, Tony Curran, Martin Compston
Language: English (English & Swedish Subtitles)

Country: UK | Denmark

Also known as: Crvena cesta | Sinal de Alerta | Ulica red roud
Description:Jackie (Dickey) sees the world through digital stream and color filters on paragraph surveillance in Glasgow. Lives like a hermit, my favorite hobby is to watch over the people and their concerns. Favorites – dumpling-cleaner, making nonexistent dance while working and middle-aged man with grey hair and a dog on a leash. Every two weeks gracious married colleague Jackie in the van, exports to the clearing and there Fucks. The interests of the young ladies exhausted.
One evening, sitting at the post, Jackie noticed on the screen couple, engaged love around to the garage. Lesson quite ordinary and usual in dirty doorways Glasgow, but the face curly red-haired gentleman (Curran) to attract Jackie. She recognizes it, smells, and then it will collect information about what the hell he was so early just got out of prison.
Starring Martin Compston, who also played in Strippers vs Werewolves trash flick.
«Red road», low-budget even by the standards of art house, it is a sample of an imperishable art, the British response to European classics Haneke and von Trier. Entirely made by hand camera and carefully observing the rules of Dogma 95, «the Road» has some animal magnetism, and two hours seemed to go beyond reality. Thriller she is in the same measure how many «White ribbon» Haneke is a detective; genre in this case, the – no more than a formality. The image of Jackie built so delicately, that may be surprised at what Dickey, brilliant playing not fear, not the thrill of the hunt, not gathered an armful of awards at home and on the continent. Perhaps, the reason is specificity. Two hours is not happening, nothing, only in a tight ball is pulled together intrigue, bringing in the final to inhuman strain and banal tears. «The road» is very heavy, she painfully beautiful, restless, and, as is often the case with these things, not for all. Explicit sex scene make von Trier's laugh in a Cam (culmination cunnilingus easily competes with the best scenes of «Antichrist»), and Arnold especially don't pull strings with the spectator, causing it to consistently observe cruelty, death and beauty. The last, by the way, British and promotes appreciate to hold in the hand in a death grip when Jackie is removed to meet the human stream, in her hair in the wind plays the sun, and in the background sounds cover of Love Will Tear Us Apart from Honeyroot. Is this hell beauty?
Screenshots:
Download:
Red Road 2006 (English Subtitles)