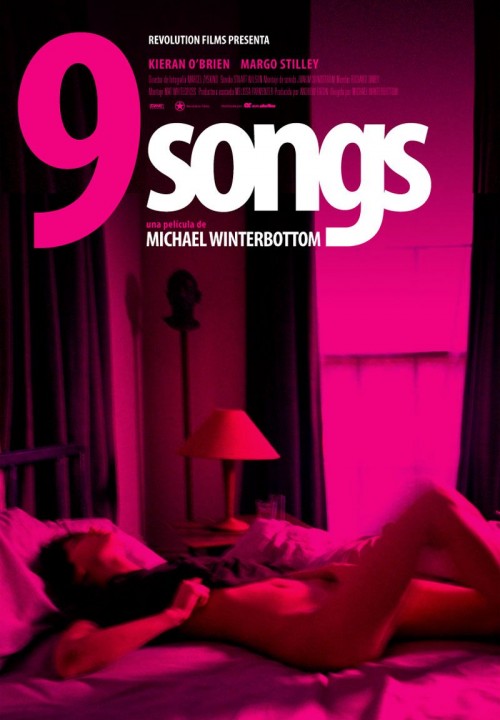 Year: 2004

Duration: 01:06:59
Directed by: Michael Winterbottom
Actors: Kieran O'Brien, Margo Stilley, Huw Bunford, Cian Ciaran
Language: English
Country: UK

Also known as: 9 Canções, 9 orgasmos, 9 canciones: Sexo en gira, Nine Songs, Nueve canciones
Description: The film tells the story of love and sexual relations between Matt, scientist studying in Antarctica, and student Lisa. They met at a rock concert, and their relationship continued for a while until Lisa went to her home.
Review: Scandalous picture of Michael Winterbottom (The Killer Inside Me and Jude) shocked Cannes plenty of scenes that include pornographic rather than erotic. Film Festival in San Sebastian tape received the award for Best Cinematography.
Over infinite Antarctic ice slides a small plane. Flying and there scientist glaciologist Matt remembers happy times spent with the young American student Lisa. Here icy desert gives way to scenes of love, and they – the scene with bright light and a roar of electric guitars. All day, Matt and Lisa have sex in a darkened apartment, and spend the evening in London clubs at the concerts of popular rock bands. Young people are completely absorbed in each other and try not to leave for a minute.
Actually, this is the plot of the film. And episodes of "children under 16", and a live concert filmed in the inevitable nowadays hand-held camera. Visuals accompany Franz Ferdinand, Primal Scream, Super Furry Animals, Black Rebel Motorcycle Club, The Von Bondies and Michael Nyman.
Screenshots:
Download: