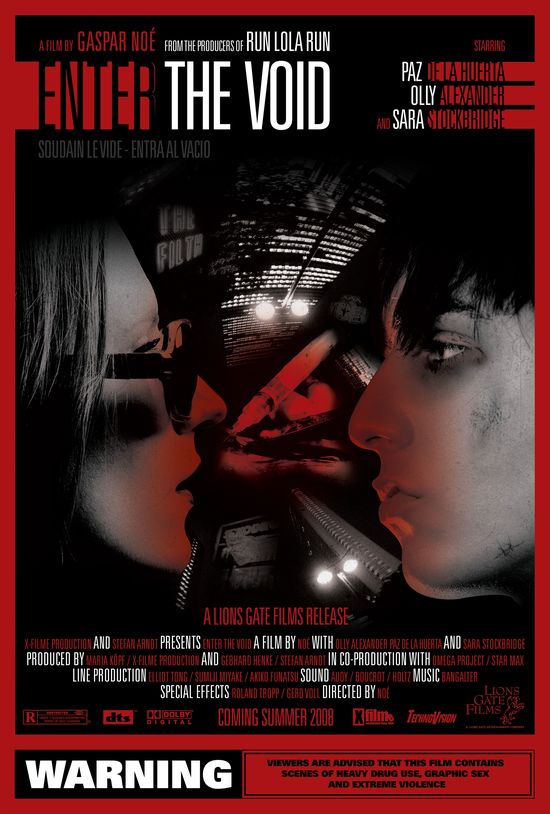 Year: 2009

Duration: 02:34:39
Directed by:  Gaspar Noé
Actors: Nathaniel Brown, Paz de la Huerta, Cyril Roy, Olly Alexander
Language: English
Country: France | Germany | Italy | Canada

Also known as: Soudain le vide, Wkraczajac w pustke
Description: Oscar (20) and his sister Linda (18) – visitors and new residents of Tokyo. While Oscar trades drugs, Linda dancing striptease at a nightclub. Once, during a police raid at a local bar, Oscar gets shot and as he dies, his soul, true to promise never to leave his sister, refused to leave the world of the living. Oscar restless spirit wanders through the city, pursued by unbearable nightmares. The past, present, and future are intertwined in hallucinogenic whirl.
Review: Incredibly beautiful film. Aged, going one continuous narrative tape, without deviation, and unnecessary scenes.
Shows the history of a man who has suffered at the hands of police. His long journey home, back to the womb of the mother, shows viewers how it will be possible to look our trip souls after death. The fact that we can survive, what we us feel and see a new side. This is certainly a genre in a new era of filmmaking. This is a completely different view of life after death, narrated freestyle manner, without embellishment.
Although we know Gaspar Noé as controversial director of such films as "Irreversible" and the rape and revenge film I Stand Alone, where most besetting sin, corruption, violence, murder, and other dirt. Here it's different. It is love, pure, innocent and eternal. There is a sense, because if you watch closely what is happening on the screen, be sure to pronikneshsya compassion for the heroes of the film. Here the great mood of emptiness, real, emotional, painful emptiness. And you, with the characters of the film, gradually merges with it, fueled by drugs and thoughts of eternal life.
The film certainly embodies the harmony of the world, to keep the balance between hell and paradise.

Screenshots:
Download: