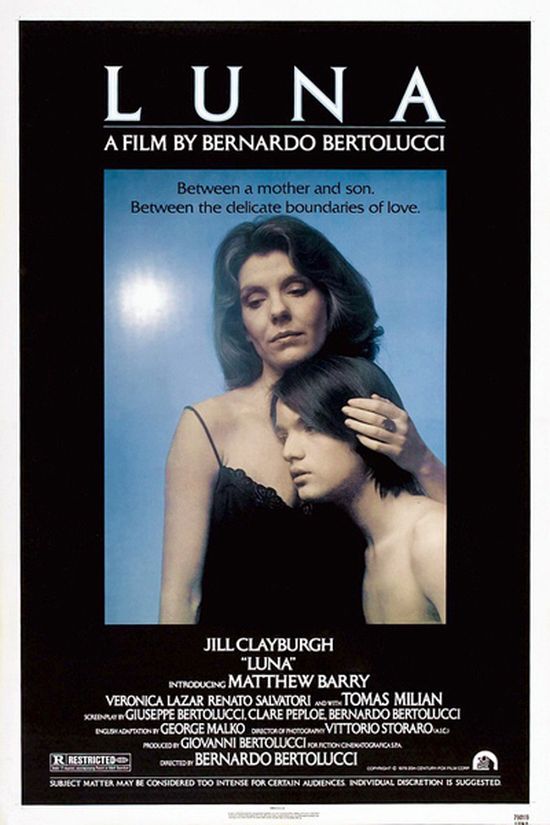 Year: 1979
Duration: 02:16:05
Directed by: Bernardo Bertolucci
Actors: Jill Clayburgh, Matthew Barry and Veronica Lazar
Language: Italian | English

Country: Italy | USA

Also known as: Luna, A Hold, Kuu, Ksiezyc
Description: Teenager Joe, the son of the famous opera singer Katherine Silver, believes that the mother's husband, Douglas Wint, his real father. Joe's only wish that his father was strong and determined, but not soft and limp, like Douglas. In desperation, Joe seeks support in drugs. Risking their careers, destroying their own plans, but hoping to save their son, Katherine and Joe goes to Italy. In Italy, because although it's real guy's father, working as a school teacher. Katherine can not find a common language with her son, and their relations are much deeper than she had expected …
Review: Incredibly dramatic picture, arresting and plot, and the performance of the actors. Scenes of the approach to the brink of what is permitted, but in cases sveh director gracefully avoids vulgarity and vulgar methods.
Bernardo Bertolucci's (The Dreamers) drama "Moon" I looked like a psychological thriller. Despite the fact that the plot is the story of the relationship of the famous opera singer and son, sharp and, literally, painfully adolescent loneliness, sometimes looking at the screen was frankly terrible, almost unbearable …
I am extremely grateful to the director, who managed to never cross the face of the permissible. However, the credibility of what is happening in the relationship closest relatives and then staggering. Sometimes to the physical … rejection.
But at the very end of the film, when the last tile puzzle this ordinary stories get in the place called the whole meaning and depth to this complex and truly dramatic picture.
The debut of the young Matthew Barry deserves applause no less than a great performance as the mother Jill Clayburgh. Operator, painter and composer – as well. The film is beautiful and extremely relevant. It is hard to believe that he was shot 30 years ago.

Screenshots:
Download: