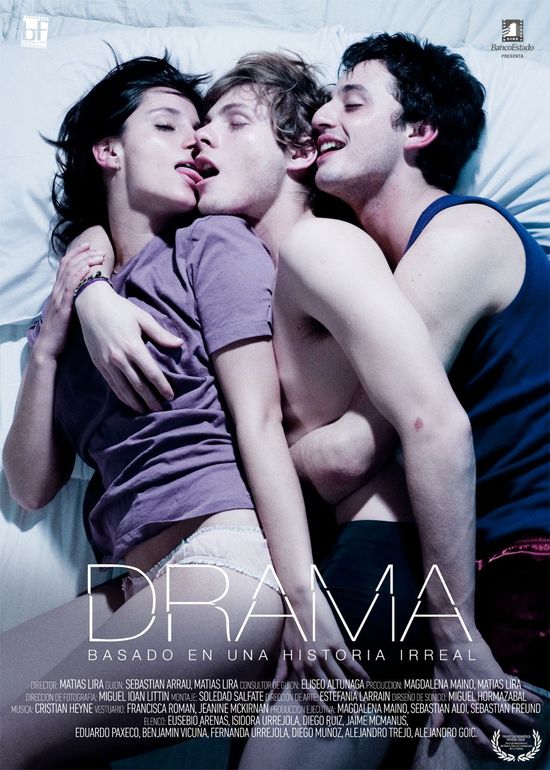 Year: 2010

Duration: 01:19:37
Directed by: Matias Lira
Actors:  Eusebio Arenas, Diego Ruiz, Isidora Urrejola
Language: Spanish (English subs)

Country: Chile | Argentina

Also known as: 
Description: Three students of the drama school, influenced by their teacher, practicing the theory of Antonin Artaud, begin to experiment with their lives, searching for real emotions and situations, then to put them on the stage. The desire to become the best actors bring teenagers to the darkest sides and go far beyond what is permissible …
Review: Matias Lira offers the viewer quite difficult for the film, if only because that theory kryuoticheskogo theater is not included in the compulsory program of cultural education. It is advisable to study it in advance because "Drama" – is both a self-contained story of the life of "the three children, who think that life is theater," and filmed the transformation model of personality under the influence of dangerous techniques Artaud. It is quite familiar with another teensploitation flick called Kids
Interestingly enough, as the director himself refers to "kryuoticheskomu theater" as "Drama" seems to give him a rather skeptical assessment. Structurally, the film is a disjointed stories of real life heroes, and the translation of these stories on stage. Lear succeeds in erasing the boundaries between theater and the street, and the blurring of the boundaries of personality, bringing to the fore not only provocative visual component of the film as a tragic psychological. Not everyone is able to destroy their identity completely, as required by the "theater of cruelty." Someone in the Dionysian Sabbath reveal his true face, the other will hide behind masks all possible, and not feeling for it is the "something", and the only one who reached the top kryuoticheskogo art and turned himself into a "character", it risks being umervschlennym experience, can not survive it.
Not only is the "Drama" is a complex theoretical construct and is made in a beautiful, but dark "art-house" style, so also the producing country is Chile, even very infrequent guest at international festivals. And yet, if you hit the movie, be sure to see, perhaps, of Mathias Lear once we hear more, as the next Latin star. The potential of it, I think there is.
Screenshots:
Download: