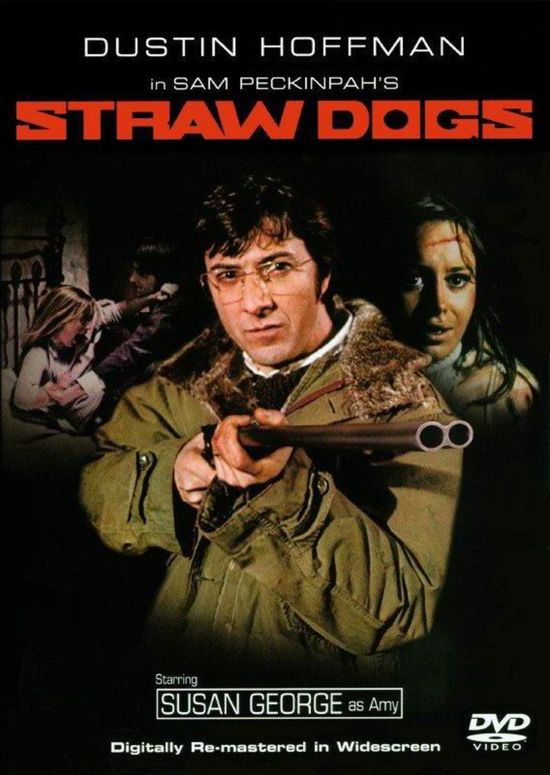 Year: 1971
Duration: 01:52:26
Directed by: Sam Peckinpah
Actors: Dustin Hoffman, Susan George, Peter Vaughan, T.P. McKenna, Del Henney
Language: English
Country: UK | USA
Also known as: Sam Peckinpah's Straw Dogs, Straw dogs – De galna hundarna, Les chiens de paille, Perros de paja
Description: David Sumner – a young American mathematician, who is tired of chaos, created in college, where he taught people. David wants to be alone: with his wife Amy, he moved into a new house on the beach in one of the towns of England, where she was born and grew up Amy.
But life in a new place is a headache. David is busy with his studies, Amy is bored and starts flirting with local men. Furthermore, there is tension with the neighbors, who do not really like brand new.
Review: The old Straw Dogs is a classic. The new Straw Dogs is a dog IMHO. I was so looking forward to the new one and here's why. The classic had tits. Exhibitionist tits and rape tits. Susan George in her first major international film role was battling director Sam Penkinpah to keep some clothes on and I'd say it was a draw. I saw it in junior high (rating schmating – they sold me a ticket) and it was definitely the hottest movie I'd ever seen. Sam Peckinpah was known for stylized violence (another word for slow motion, I stylize all my favorite scenes) rather than sex and the film is good and violent. But the rape is definitely central to the plot. The bitch is asking for it by showing the working class her tits while staring out the window looking bored (in the good version). The dumb ass husband goes out hunting snipe while the shits who were fixing the shed are raping his wife. Susan George does a great job with the rape and that's how she got out of showing her pussy and ass. But back to new straw dog of a movie, if Kate didn't want to show some skin go find one of the other 500 actresses who would jump at the chance. Susan George wasn't that well known internationally and she pulled it off quite nicely. I was looking for reviews of Ms George's perfomance and the first listing in the search engine had Star Dogs rated two stars! Turned out it was that 2011 load of crap. There's one frame of ass rape thrown in to the old classic somewhere, for good measure, so having looked at that still, I give Straw Dogs a five star nudity rating.
Screenshots:
Download: