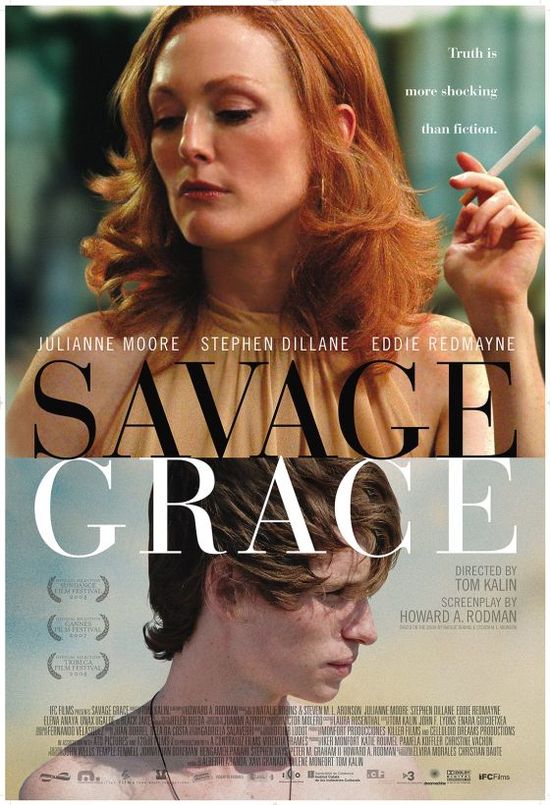 Year: 2007

Duration: 01:25:31
Directed by: Tom Kalin
Actors: Julianne Moore, Eddie Redmayne, Stephen Dillane, Anne Reid
Language: English
Country: Spain | USA | France

Also known as: Wilde Unschuld, Desejos selvagens, Uwiklani
Description: Story of the film is based on a true story, on events that unfolded in London in 1972. Young beauty Barbara Daly (Julianne Moore who played in Chloe and Map of the World) married a wealthy industrialist and heir of a vast fortune. A couple turns in the highest circles of society, indulging in all sorts of pleasures. Their relationship can not be considered normal: suddenly emerging affair, casual sex and successive bouts of jealousy and passion of both spouses. They have a son, who inevitably absorbs everything that happens and in a way makes sense.
With age, he grew more convinced that the girlr are not interesting, and leaning towards gay orientation. Seeing the enthusiasm of his son and trying to prevent it, Barbara decided to seduce him, without thinking about what a terrible tragedy it can bring, having crossed to this forbidden line.
Review: "Wild Grace" – Film-shock … to me personally. The film – based on a true story and it is even more shocking.
The first half of the film is more or less "calm" and no wonder, with such situations and family is not enough, but the more the harder all wrapped! From some of the scenes just get up hair on end. Barbara (Julianne Moore), a mother, is shocking, is relatively calm clearly abnormal son … it's just impossible, how can you respond to something that makes a son (not a little boy, and already fully grown man)? There are no words … And her "virtue" and, worse, "good", she certainly helped little son-gay to be a real man … complete lack of any moral qualities in women? Therefore, this final story is not amazing!
As for the actors, I can not say a word about Julianne Moore! How are all the same it chic in AMD, in just such bold roles, as here! Amazing given all the emotions of the heroine, believe her, and this is important! Great movie, watch it is if not all, that many!

Screenshots:
Download: