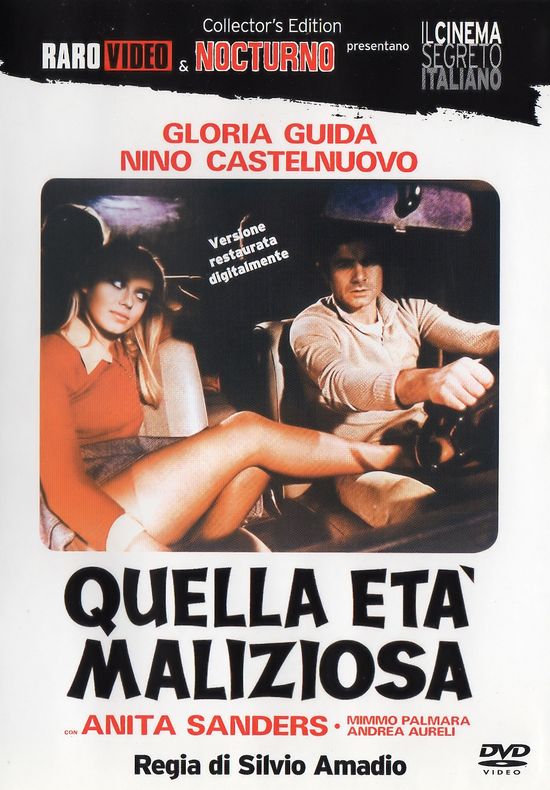 Year: 1975
Duration: 01:24:16
Directed by: Silvio Amadio
Actors: Nino Castelnuovo, Gloria Guida, Anita Sanders
Language: Italian
Country: Italy
Also known as: Quella età maliziosa (Italy; original title) | La lycéenne a grandi (France)
Description: Napoleone answers a request for a gardener and is hired to serve at the holiday house of a wealthy family.
On the night of his first day, he sees a beautiful blonde young girl striping at the window. He keeps watching as she thinks she is alone. They will later become lovers as the beauty of the girl is kept from all other eyes.
The movie "That Malicious Age" was filmed by Assassination in Rome.
But not before her mother teases Napoleone and involves him in another torrid love affair. This can only end in mortal tragedy when a fisherman that is lover to the lady of the house finds all this.
Review: The widow, who lives in a secluded location with young little daughter is hiring a gardener. My daughter did not miss an opportunity to have fun and teasing gardener. Flirts, allows himself to be touched, but just surrender does not want to. And so two thirds of the film. Closer to the end of man girl sex downward, arguing that they both reached the stage of being in love when you can indulge in amorous pleasures.
Overall message of the movie I did not catch. I explain why. In fact, in addition to couples in love there are other story branches. The widow, for example, also offered his body gardener, but that for some reason he reject it. And yet there was an old fisherman. Normal this and boilerplate: unshaven, thick and Amateur swear and gripe.
Fisherman also passionate about yong age Gloria and end of the movie tries to rape her, once the girl possessed the gardener. So it happened that when Gloria fought back from power and callused hands under her hand accidentally turned up the cobblestones which it smashed head to the man. Widow learns about it and it comes in a bright idea and not rid whether from a corpse? What she's doing, adhering to the body of heavy cargo, and drops into the sea.
And all would be nothing, it would be such a mediocre romance with often exposing Gloria, Yes the death of the fisherman at the end of the film are all spoiled. Well, let's Silvio Amadiyah is primarily known for its giallo-work «In search of pleasure,» but would you insert the death of one of the main characters (actors can be counted on the fingers, because fisherman enters the main automatically) at the end so sweet and good films?
Screenshots:
Download: