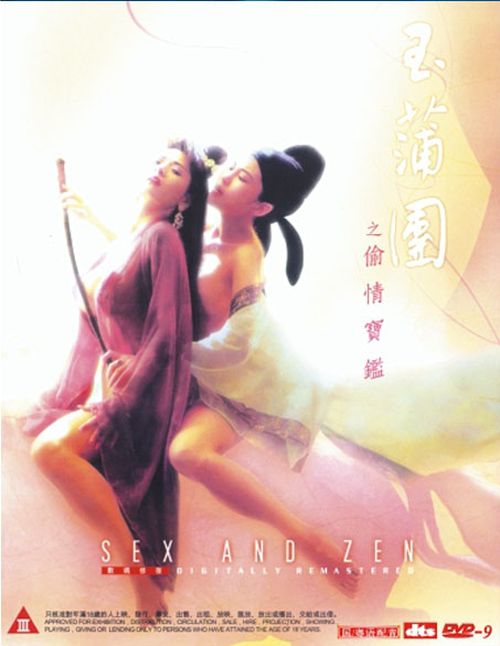 Year: 1991
Duration: 1:30:02
Directed by: Michael Mak
Actors: Lawrence Ng, Kent Cheng, Rena Murakami, Lieh Lo
Language: Cantonese (English subtitles)
Country: Hong Kong
Also known as: Yu pu tuan: Tou qing bao jian, Sex and Zen – Il tappeto da preghiera di carne
Description:  Sex and Zen is, simply put, one of the most unbelievable movies ever put to film. Lawrence Ng stars as a randy scholar who challenges tradition by attempting enlightenment via the unscrupulous ravishing of as many women as is humanly possible. This desire occurs despite being married to his delectable wife, played by famously top-heavy Hong Kong Cinema starlet Amy Yip. But the quest to become the ultimate player comes with necessary enhancements, namely a horse's member in place of the scholar's, uh, laughably small endowment. Thanks to a quack doctor, the scholar gets the necessary surgical help to experience life as a well-hung guy. But does such carnal pleasure come with a price?
Based on a seventeenth century novel titled "The Carnal Prayer", this raunchy, raucous romp is the perfect midnight film for consenting adults looking for something very, very off the wall. Sex is played for laughs as much as it is for titillation, resulting in many unbelievably entertaining sex scenes. Sex and Zen has eye candy to spare, thanks to appearances by Isabella Chow, Rena Murakami, and of course fan-favorite Amy Yip. The film also features appearances by Category III staple Elvis Tsui, Shaw brothers veteran Lo Lieh, and Kent Cheng as the doctor skilled in horse-to-human organ transplant. It may not be family-friendly or even a comfortable conversation topic, but Sex and Zen can easily be called a cult classic.

Interesting plot, designed in unmatched surroundings of the Ancient East, intertwined with beautifully filmed explicit scenes. Girls who appear in the film, very pretty. Special praise deserves the main character – beautiful, stately, emotional actress.
But not worth watching this movie for the girls and sex. The film does not dwell particularly on this, his ideas are deeper and more diverse. He tells us about the importance of Platonic feelings, about the value of mutual support of two loving people, about the pointlessness of jumping above your head, for the sake of dubious values, the importance of loyalty and the adverse effects of the thrust to sexual abundance.
However, the narrative sags in some places, making some boring moments view.
But overall, this mixture of humor, sexuality, philosophy and chanting of human values is commendable and highly recommended for viewing to all smart, creative people and lovers of Oriental surroundings and beauty.
Screenshots
Download