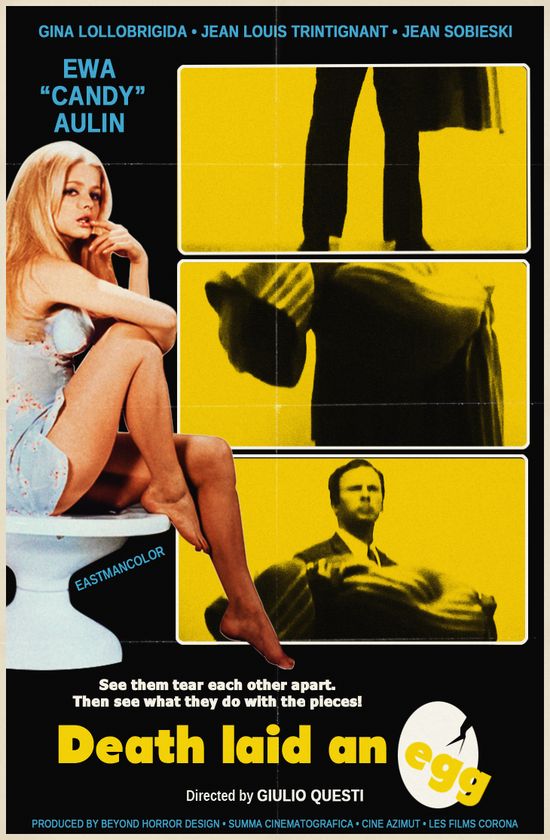 Year: 1968
Duration: 01:26:47
Directed by: Giulio Questi
Actors: Gina Lollobrigida, Jean-Louis Trintignant, Ewa Aulin
Language: English
Country: Italy, France
Also known as: La morte ha fatto l'uovo, Plucked, La muerte ha puesto un huevo, A Morte Fez um Ovo, Døden lagde et æg, Dos menos uno, tres, Kuoleman ansa, La mort a pondu un oeuf, I gennisi tou thanatou, Döden lägger ägg, Die Falle
Description: Directed by documentary filmmaker Giulio Questi, this bizarre giallo focuses on a love triangle between three people: the psychopathic Marco (Jean-Louis Trintignant), Anna (Gina Lollobrigida) and Gabrielle (Ewa Aulin). It's a tale of love, murder and chickens, a surrealist giallo (or 'thrilling all'italiana', if you prefer).

Marco marries Anne – a wealthy owner of a chicken farm, but her cousin and her lover decide to get rid of a married couple and pick the farm itself. For a start they sent an anonymous letter to Anna, compromising her husband.
Review: "Death Laid An Egg " – a little-known Italian thriller with Jean -Louis Trentinyanom and Gina Lollobrigida in the lead roles. According to the style of the film reminds Jalloh . This manifests itself in the camera work and fine details (like a cold murder weapon ) . Toward the end of the film it becomes clear that this is not real Jalloh , a game of it. The creators used the form and content of adjust by itself . Here a little, and philistinism ridiculed (episode in the house of the main characters from the room ), and the idea of "death , which laid an egg " ( the final one eats this " egg "). In general, the movie is very unusual. At the main character unhealthy psyche and cinema related from his face – in the end the story turned anxious and sick . The film is extremely ragged , rough and ugly . Beautiful I would not have called it, on the contrary – it attracts psychopathic atmosphere , surrealism (from which the band bursting ) and strangeness in all senses.
About "Death Laid An Egg" can say a lot , because the unusual feeding and decaying on the motives plot (with one , by the way , clear leitmotif – the name ) kill your brain , kill the intrigue and make the film Rubik cube . How do you see this movie , so he is. I see this movie as one big complex . The hero mental problems and he kills women … even though there is hidden the main intrigue ( who is and who is killing ) . Death snesshy egg – it's kind of a metaphor for the life of the hero. Egg (mutants were born on the farm of the main characters ), a waste product . This is a shot in the side of the bourgeoisie , which gives the appearance of well-being and order ( but only an appearance , inside – rot) , and that which is born as a result of this , called the " egg ." A by- product) ..
For the time in the film are simply magnificent in its sophistication scene. Scene of the accident ( decorated wild assembly ), which recalls the heroine Eva Aulin – just shine ! The whole line Trintignant and his wife , filed a prostitute – taken out of " Morning Glory ", but ( again recalling Godard ) – " no matter where it is important – where! ". The film – a masterpiece . This is the same egg, which carried a "dead cinema ".
Screenshots:
Download: