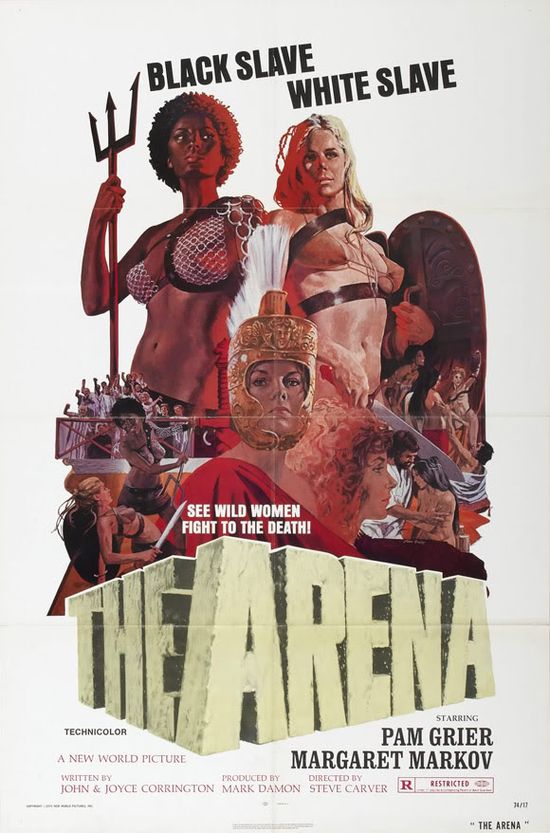 Year: 1974
Duration: 01:22:04
Directed by: Steve Carver
Actors: Margaret Markov, Pam Grier, Lucretia Love, Paul Muller, Daniele Vargas, Marie Louise Sinclair
Language: English
Country: Italy | USA
Also known as: Naked Warriors, La rivolta delle gladiatrici, La révolte des gladiatrices.
Description: Many hundred years in the past, the men and women of Rome are so jaded, so tired of brutality and cruelty, that it soon becomes a political question. Somebody recommends, right after a stressful catfight in a cooking area between two slave girls, that women warriors must combat at the arena, instead of men. The concept happens to be approved.
On first impression, it seems that Roger Corman had been intending something totally new when he was filming "The Arena" movie. But when you'll watch it you will see that it's another Women in Prison flick, with a little sword and sorcery mix.
You will find a few of elements that the movie has. First of all it's a famous black actress Pam Grier who already played in a lot of WIP flicks. And another one is Margaret Markov, who also played in Hot Box. The moments having two actresses are the feature of the video. After viewing Grier and Markov hand in hand, Seriously need to see Black Mama, White Mama film. The picture is also quite cheesy and has a lot of humor, which you may like.
Sorry to say, but not everything in the film is good. Let's begin with the synopsis. Females were abducted and brought to Rome to work as servants, made to combat, and attempt to escape. You will find very little acting game here and absolutely no reason to worry about this. Next… the fight scenes. They don't look natural and that's really disappointing. Normally Pam Grier always kicks bad asses.
Screenshots:
Download: