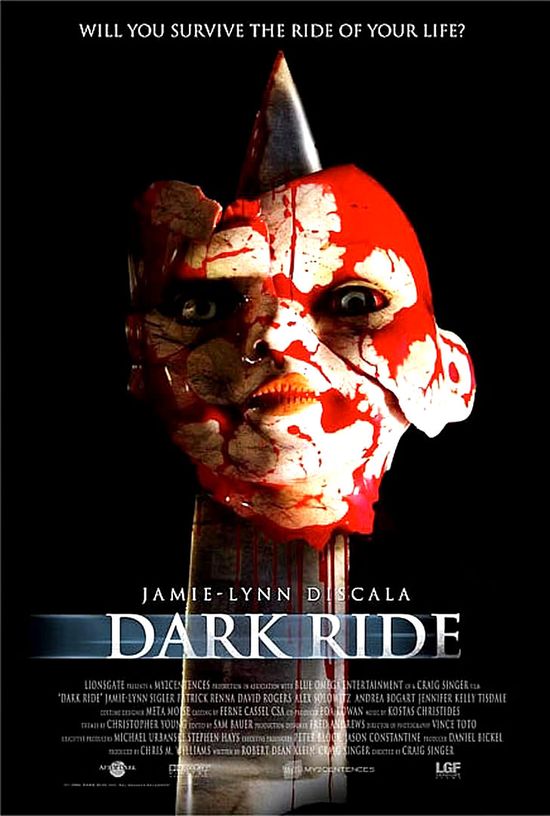 Year: 2006
Duration: 01:30:16
Directed by: Craig Singer
Actors: Jamie-Lynn Sigler, Patrick Renna and David Clayton Rogers
Language: English
Country: USA
Also known as: La casa del terror, Trem Fantasma, Tunel smierci
Description: Ten years after he brutally murdered two young girls, crazy killer escapes from the mental hospital with a strict regime, in which he was identified by the court. Once on the freedom, maniac decides to go back to the beginning of his bloody path and finds refuge in the depths of the park rides "Journey into the darkness."
Meanwhile, not far from the park, the company started a road trip to cheer teenagers involved in a collision. Failing to find a better option, the young heroes of the night to go to look for an amusement park, where they were waiting for a ruthless madman, thirsting add to the list of his victims by their names …
Review: Slasher "Dark Ride", released in 2006, took part in the prestigious festival «After Dark Horrorfest» and gained a lot of positive reviews from critics and audiences. On the one hand, the film takes on all of the genre – a maniac in a mask, a group of teenagers, nudity and carnage, on the other hand – trying to be a distinctive and original that he had very successful.
From the very beginning of the film is simply stunning twist – we briefly recount the story of a maniac, and, it looks really impressive and scary. Further action develops in a classic case: a group of young people who decided to win the adventure is tenderloin, whose role in the film does an amusement park, and there is serial killer that cuts its victims the most brutal way.
So, the picture takes up something like the classic slasher and modern masterpieces of the genre. Thus, it is impossible not to note a distinct similarity to the horror of this film "Mortal fun" Touba Hooper: the action here too is an amusement park, there is also a maniac and atmosphere, plus some plot turns. However, this tape is in all respects superior to 'fun' – the atmosphere here more like nudity and 'meat', the maniac is made and served on a much higher level – the squalor of the tape Hooper simply pales in comparison with the butcher of the tape.
Screenshots:
Download: