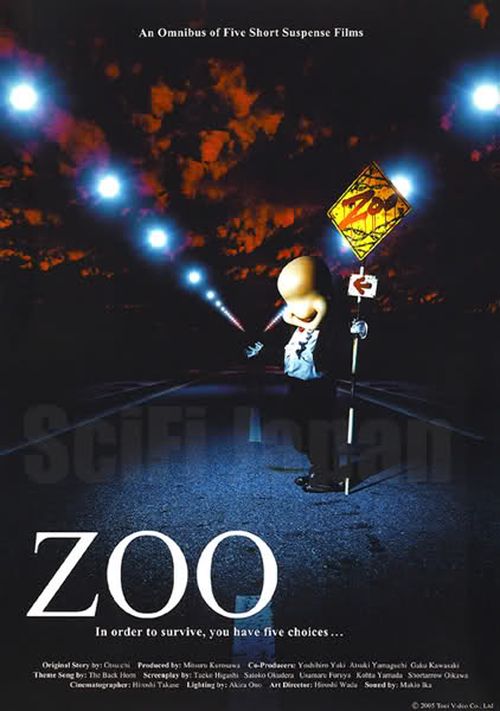 Year: 2005
Duration: 2:01:27
Directed by:  Ryu Kaneda, Masaki Adachi
Actors:  Patrick Harlan, Yui Ichikawa, Ryûnosuke Kamiki
Language: Japanese
Country: Japan
Also known as: Zoo
Description:
The film consists of five short stories, shot five Directors.
The first Novella "kazari and Yoko" ("Kazari and Yoko"), Two girls-twins living with my mother, but a mother loves and cherishes, and over the other in every way mocks. When the girl doesn't want to take any more insults, things take an unexpected turn…
The second short story "Seven rooms" ("Seven Rooms") the Boy with my sister awake in my empty room. But later find out that there are six more rooms where also locked six different girls, and every day at 6 o'clock an unknown killing one…
The third story "So-Far", the Father tells the son that his mother died in a car accident, But the boy can see his mother, and she tells him that his father died in a car accident. He can communicate with both parents, and hesitates which of the worlds to choose…
The fourth Novella, "When the sun is shining" ("When the Sun Shines") Humanity died out long ago. The only remaining man creates girl robot and introduces it with the world.
The fifth short story "Zoo"  the Man kills his girlfriend in an abandoned zoo and makes her pictures every day. But one day, suddenly the zoo is gone, and the line between reality and fantasy gradually erased…
Screenshots
Download