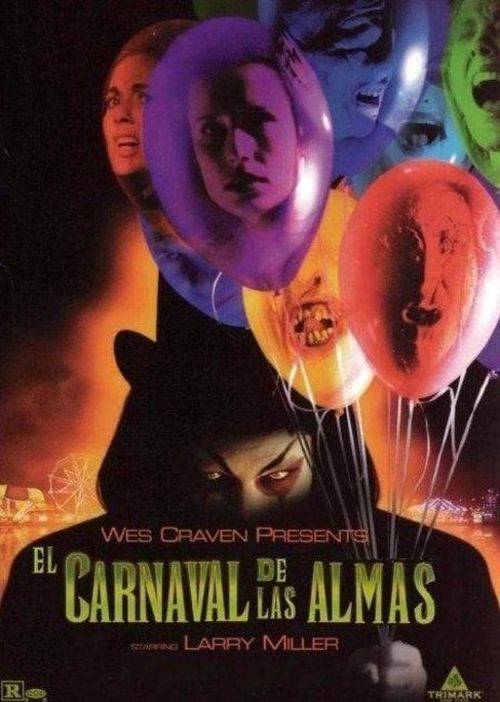 Year: 1998
Duration: 01:27:00
Directed by: Adam Grossman, Ian Kessner
Actors: Bobbie Phillips, Shawnee Smith, Larry Miller
Language: English
Country: USA
Also known as: A Feira das Almas, Carnival of Soul, El carnaval de las almas, La fira de les ànimes, Lelkek karneválja, O naos tou tromou, Parque Macabro, Wes Craven Presenta: Carnaval de las Almas, Wes Craven Presents 'Carnival of Souls' , Wes Craven's Carnival of Souls
Description: Well, Bobbie Phillips ('The X-Files' — Dr. Bambi Berenbaum in the season 3 episode "War of the Coprophages", 'The Chameleon' movies) is pretty, as always.
Shawnee Smith ('The X-Files' episode " Firewalker", 'Saw', 'The Blob', 'The Stand') is a cutie-pie, as usual.
And comedian Larry Miller  is a sleazy, creepy killer clown.
Seems the few people that have seen this movie really love to slam it. I've built up an amazing tolerance to bad movies (like everyone here, I'm sure) so maybe that's why I didn't think it was THAT bad.
When Bobbie was a little girl,she witnessed the brutal rape of her mother by a carnival clown (Larry Miller). When she feebly tried to interfere, the clown ended up breaking her mother's neck.
Bobbie and Shawnee (yeah, we're close personal friends and on a first-name basis) own and work at their late mother's bar. The killer clown gets out on parole and comes looking for Bobbie.There's creepiness going on at a nearly-deserted carnival. 'Jacob's Ladder'-type demon-thingies start to appear, and she begins to have weird, horrible hallucinations and dreams (or are they? Hmm…)
Review: 20 years have passed since the gay dating Alex Grant with Luis Sigremom dressed in a clown costume at the carnival. Louis was risible cool maniac, and that terrible day she lost her mother. The sight of her torn body remained forever in the memory of Alex.
Many years later, a nightmare, do not leave the poor girl dreams becomes a reality. After serving the prescribed time, Louis comes to freedom to seek revenge. Newly colorful carnival and wonderful music carries with it a terrible past. And fear intoxicate the mind, resurrecting long-forgotten vision and reviving ghosts. Trapped in Alex tries in vain to leave a terrible festival.
Rating in 3.30 on IMDB quite adequate. Movie about nothing. And the horror here does not even smell, there is only a very boring mysticism. Just been tired at the end of the film, when the 10th time it began to sink in different conditions and again, a totally different place. This method is good to use for the film 1-2 times the maximum, but not every 10 minutes continuously. The result was a mystical set of frames in the end, but the movie itself was not all. Advise on a one-time viewing only mystery lovers, fans of horror sidestep
Screenshots:
Download: