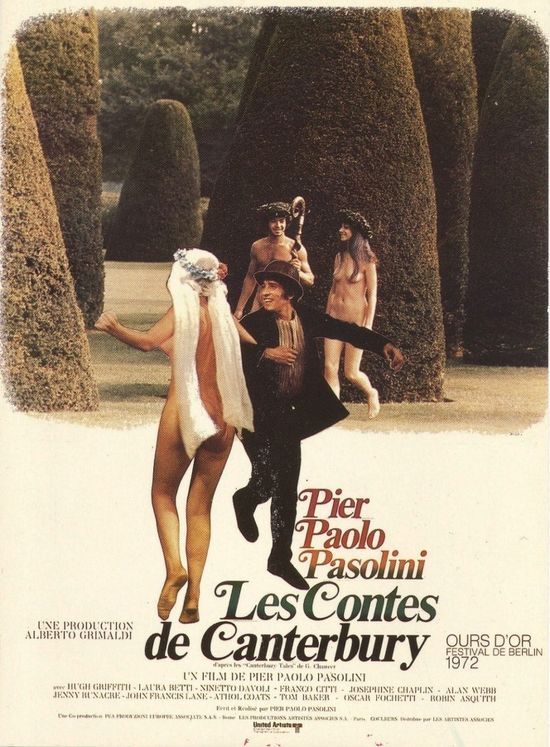 Year: 1972
Duration: 00:54:10
Directed by: Pier Paolo Pasolini
Actors: Hugh Griffith, Laura Betti, Ninetto Davoli 
Language:  Italian | English
Country: Italy | France
Also known as: I racconti di Canterbury
Description: The film Canterbury Tales is developed in medieval England at the inn. In this film, the director played the role of Chaucer, which is one of the listeners four stories told by travelers. All novels paintings imbued with the spirit of sensuality and eroticism, humor and simplicity of manners in medieval England.
Review: Youth is insolent and stubborn , shameless and secretive . That old coaching inn in Canterbury was full of youthful bodies, hungry for each other and that he was focused a lot of weird and sexy stories in which morality and immorality are one, in which sin is a true expression of human feelings .
" The Canterbury Tales" in 1972 – the second part of the " Trilogy of Life" by Italian director Pier Paolo Pasolini . This film is much inferior to " Decameron " in romance , replacing it with naturalistic and frank eroticism on the brink of a foul, sometimes producing anti-aesthetic appearance. The viewer is waiting just eight short stories of the 22 included in the " Canterbury Tales ," Geoffrey Chaucer , and Pasolini very freely drawn from a literary source , to do so own mythology , joining in the stories Italian hedonism and British humor , going into the finals for a frank and vibrant religious provocation ( short story about sparing monk to go to hell ) .
However , each story , whether it's "The Story of the butler ," " Miller's Tale ," "The Story of Chef ", "The Story of the Merchant " or "The Story of Carmelita ," maintained morality is punishment for various bodily sins.
Starring in the film are beautiful and bold, perfectly embodying the screen the director's vision of the world Geoffrey Chaucer. Of particular note in the film game Ninneto Davoli , Hugh Griffith , Laura Betti , Josephine Chaplin and Vernon Dobcheffa .
The operator of Tonino Delli Colli made ​​the film very contrasting , combining openness and aesthetics , sometimes disproportionately . Ennio Morrrikone wrote for the film is amazing and atmospheric soundtrack , soaked in the spirit of medieval England.
I recommend this controversial film rowdy Italian Pier Paolo Pasolini all fans of European auteur cinema .
Screenshots:
Download: