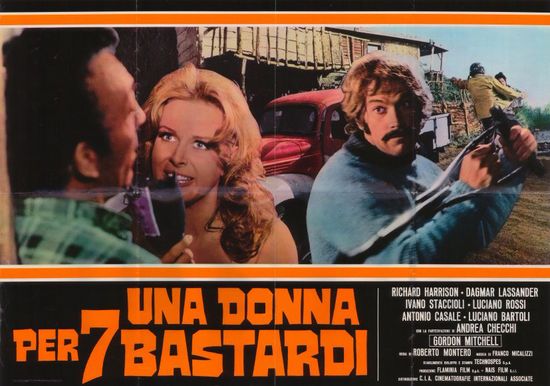 Year: 1971
Duration: 01:29:07
Directed by: Roberto Bianchi Montero
Actors: Richard Harrison, Dagmar Lassander, Ivano Staccioli
Language: English
Country: Italy

Also known as: The Sewer Rats, Una mujer para siete bastardos, Mia gynaika gia 7 katharmata, Das Rattennest
Description: 
Roberto Bianchi Montero's Una donna per 7 bastardi (A Woman For 7 Bastards), aka The Sewer Rats, stars Dagmar Lassander as Rita, the only lady in a shit-hole town. Actually it's really more like a few shacks, some dirt and a bar.
The town's other residents account for six bastards, and when Richard Harrison's Cripple (yes that's his character name) suffers car trouble, that makes seven.
Rita is married to the cuckolded Smith, (Women's Camp 119's Ivano Staccioli) and when not bathing, talking tough and drinking hard she enjoys flashing her thighs at the new stranger's crutch.
Other bastards are played by CG fave Gordon Mitchell (As Gordon so that's not really a stretch for him), his friend Carl the town boss (Antonio Casale), a mute harmonica playing hunchback (Luciano Rossi), an escaped prisoner on the run called Dick (Luciano Bartoli) and a sympathetic old codger (Andrea Checchi).
Sexual tensions and some serious machismo are the order of the day as the suspicious bastards eye up the beautiful Dagmar and speculate about the significance of Cripple's arrival.
Dagmar is really great in this as the trampy slut Rita who despite being constantly under threat of sexual assault enjoys the power she has over the motley collection of men. A sexy spiky performance and if you're fond of her you won't be disappointed. Likewise for Harrison and Mitchell.
The soundtrack echoes Spaghetti Westerns and the sets and costumes give the film a retro feel making it hard to work out what time period it's supposed to be set in. Who cares though as it's such good fun with pithy dialogue and a great exploitation cast?
The tape is panned and scanned apart from the credits but it's still very watchable, guessing the AR was 1:185 or less. Running time just under 1hr 28 mins. There is about 35 mins of nothing after the movie. Sorry that's the way it came but (going out on a limb) it appears to be uncut.
I'm sure the Quentin Tarrantino remake A Woman for 7 Basterds is in the pipeline, but until then…
Screenshots:
Download: