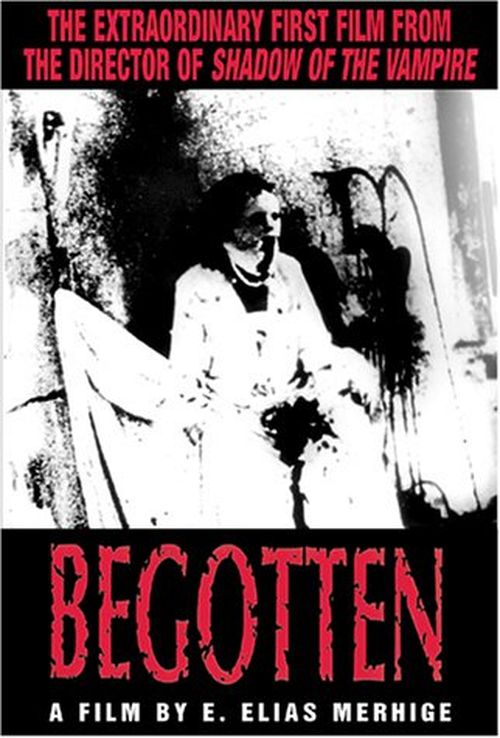 Year: 1990
Duration: 01:12:10
Directed by: E. Elias Merhige
Actors: Brian Salzberg, Donna Dempsey, Stephen Charles Barry
Language: English
Country: USA
Also known as: Začet (Serbia | Croatia | Bosnia and Herzegovina)
Description of Begotten movie: A God disembowels himself to death. Mother Earth rises from his remains and arouses the dead body to be impregnated. A convulsing man is then born and left on his own, then seized by faceless wanderers. The Son of Earth regurgitates pieces of himself that the nomads treat as gifts but when they stop coming they burn him. Mother Earth comes to resurrect him but as she takes him back to her womb, the nomads come to rape her. He is left to mourn her body but is then catch by another group that dismembers and buries him. On that place, the most beautiful flowers start to grow…
 The cruelty shown in the film – no more than a statement of fact , just another in a certain dimension, which distorts the reality is a little light , which we see it every day.
To say that I was shocked – not to say or anything . Lucky that I did not look at bedtime – and that nightmares would not avoid , in this sense – I highly impressionable . Have never thought that the show primal ferocity – that means to show the idea of its appearance . Someone sees in such a manifestation of human nature , and even something for yourself draws . I – I see a little unhealthy brain creator and incredible strength metaphorical phallus , which literally has the viewer's brain .
But no matter what , I watched a movie in the same breath , he could not come off at all. Yes, a couple of times my eyes closed , because rape does not look very nice , but in general … an unusual picture came out.
I wanted to draw attention to the fact that the supply of food to gourmet performed in a pretty unique style. That is the style I liked the author and do something that is not such a terrible ideological and fun , you will certainly be considered a masterpiece of a movie . Yeah, like we have seen in the movie " Eraserhead ", but still … a bit not that different – cool , but not that.
In general – the film look or who do not advise it. Or anyone at all . It makes no sense , there is no morality , and the only advantage that I saw – this statement . Use of a whole bunch of metaphors and imagery is striking , however – do not reject the words that the author is a bit of "that" .
Screenshots:
Download: