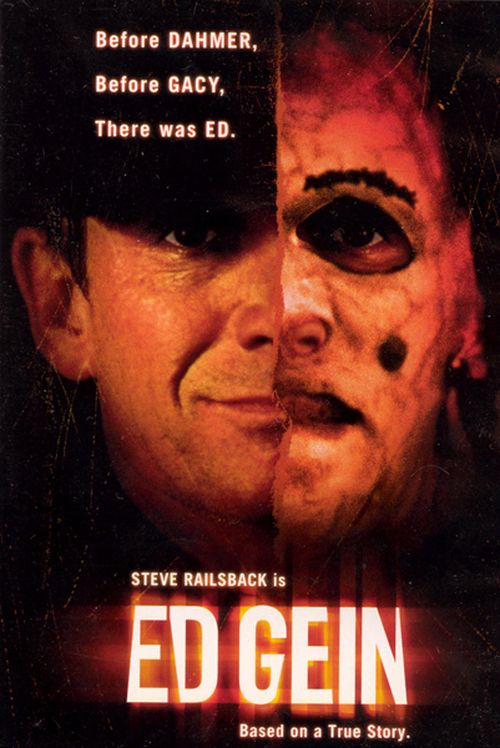 Year: 2000
Duration: 01:28:53
Directed by: Chuck Parello
Actors: Steve Railsback, Carrie Snodgress, Carol Mansell
Language: English
Country: USA / Portugal
Also known as: In the Light of the Moon, Ed Gein, Ed Gein – Il macellaio di Plainfield, Ed Gein – O Serial Killer, Ed Gein, le boucher
Description: On one hand Ed Gein seems to be a quite ordinary farmer. Neighbors say he is good-natured and shy man. But in fact, Ed has very specific interests. Robbing, deads, dried heads, cannibalism. "Wonderful World" of the female anatomy. Real murders.
Armed with the kitchen knife and anatomical atlas, Ed makes of women's bodies diffrent household items. He was particularly proud of "leather" costume worn on special occasions, such as the full moon.
And if the spirit of his dead mother, who raised her son in the tradition of strict morals, not like the behavior of sexual barmaid Mary and arrogant shopkeeper Colette, he can prepare a delicious meal of them
Directed by Chuck Parello, the filmmaker of Hillside Strangler
Review: The very first film adaptation of the life of Ed Gein published in 2000. Over the work of the film was attended by the people who have worked on projects such as "Henry Portrait of a Serial Killer" and "The Ripper". The film was well received by critics, but the box office success it did not have, unfortunately.
Ed Gein – The most popular serial killer in American history. It is from his biography written off such characters as Leatherface from "Texas Chainsaw Massacre", Norman Bates from "Psycho" and Buffalo Bill from "Silence of the Lambs." Each of these characters has something in common with Ed Gane. Leatherface was a cannibal, also from the people he killed the victims he was doing myself a new leather mask, as did Ed Gein. Norman Bates also loved his mother, and even after her death, he listened, he was obsessed by it, too, as Ed Gein. Buffalo Bill was necrophilia, too, as Ed Gein.
Gein only killed two people, thanks to the murders, he became famous. Only 2 murders, but they were met with great cruelty. As I wrote above, Gein made from those of their victims, and not just a mask, it is also out of their skin sewed a costume, which went through the house, also made from the skulls of dead plates and other things.
All I have now told it was all in the movie. Movie came out very truthful, without its share of hype, all shown as is. The cast is very pleased with me, I will not say who better to cope with the role, who is worse, you will see we have to ourselves and to assess their game.
Basically left many movies based on acts of Ed Gein. For example, the movie "Three Men on the hook for meat" in 1972, which tells of a young couple stuck in a strange farm, before that they were on a picnic next to the house maniac, there is a version that Gein killed a young couple during a picnic at his home . There was also the film "Maniac" in 1980, in which the maniac of the corpses of their victims made themselves trophies, as Ed Gein made of skulls and other dishes.
Verdict: Ed Gein left his mark on world culture. This film can truly be called a masterpiece of low-budget thrillers. All filmed with high quality and atmospheric. Cons at all. The local way of Ed Gein out a very interesting and charismatic, I remember that image for a long time.
Review #2:  Put on a series of "Ed Gein" and "TRB", "Hostel" or "Saw", is ridiculous. Recent films initially set a goal – to scare. I agree they succeeded, and even the prequels do not always turn out boring. "TRB – The beginning", to a great confirmation. Scare, among other things, those "gory details", the effects of these three films in what I would call a battle for realism.
But back to the "Ed Gein". Directed by Chuck Parelli devoted himself to this very subject – the sick people. His first film "Henry – Portrait of a Serial Killer, Part 2", is not impressed. Especially when compared with the first part, which debuted Michael Rooker, taken by John McNaughton. But "Ed Gein" pleased, this film I did not expect that that capture the imagination in terms of brutality and catering details.
The fact that Gein used as a prototype for the "TRB", does not mean that he was walking around with a chainsaw at the ready. In addition to "TRB", as I recall, Ed Gein served as the inspiration factor for the creators of "Psycho" and "The Silence of the Lambs." In the latter case, I am referring to Buffalo Bill.
Therefore, it was interesting to watch for biography maniac behind which proved that kills, just two. Odanko this, plus the odd hobbies Ed allowed him to glorify his name.
Steve loved the game Reylsbeka, to his credit that the show is not annoying. Although the timing and small, barely one and a half hours to hold out.
So, my opinion is – I advise everyone who likes to diversify their leisure, without getting stuck on "gut – meat" category. The film is semi-detached, unhurried, Neskuchnoye story about the life Edfarda Gein. After that, particularly impressionable people might think, and who else lives with me behind the wall, or in a neighboring house, or …
Screenshots:
Download: