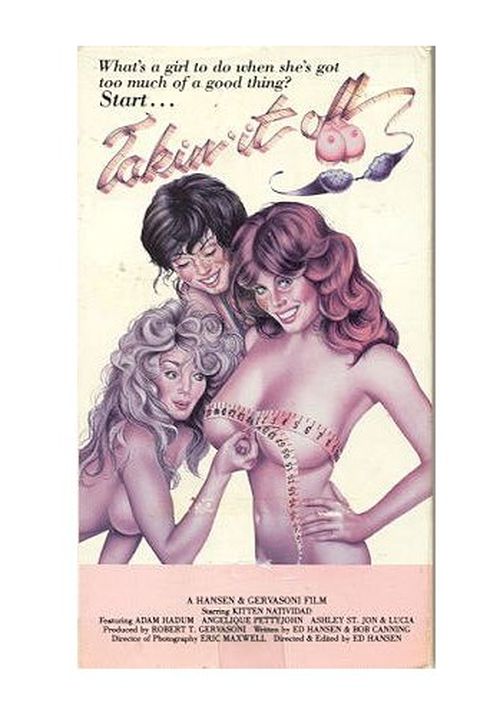 Year: 1985
Duration: 01:29:35
Directed by: Ed Hansen
Actors:  Kitten Natividad, Ashley St. Jon, Adam Hadum
Language: English
Country: USA
Also known as: Senteistä kiinni
Description of Takin' It Off movie: 
Let's start with the story briefly to (especially in the description it is not) : prima supernumerary strip club (though not a single pole I have not seen – but full of strip dancing ) really wants to try his hand at TV . However, there is one caveat – her huge breasts , which must be reduced to make way there. It's as complicated – it is not clear why only reduce , like on TV just need spectacular woman – and now this .
The film is annoying, very annoying for three reasons :
First of all – the main character Kitten Natividad , which in addition has a terrible name shabby appearance, it is felt , the cause of the failure is not only in the breasts ) B / U- shnaya Cute eyes has cut considerably.
Second – the same strip dances that are scattered liberally in the film . Which club such and dance – unimportant , nothing interesting , except to endure the film to 90 minutes.
Third – the title track (which is also called as the film ) – it is like and culpable , but in amounts that shoved her into a movie it can undermine even the nerves of steel .
In other respects , everything is normal .
The film "Takin' It Off" is bright , carefree, a typical representative of the '80s. Attempts to reduce its heroine a buffer zone with the advice of the doctor – old man with apparent desires , but a special visit to the sanatorium , where she took up a breast specialist – help smiling .
Pleasing skaters actress who as the selection filmography is divided into three parts:
A) Porno
B) Erotic (if you're lucky)
B) Horror films such as " The massacre in a hostel "
The film is not perfect, but not bad for sure – the 90 minutes to view the wasted clearly not going to take .
Screenshots:
Download: