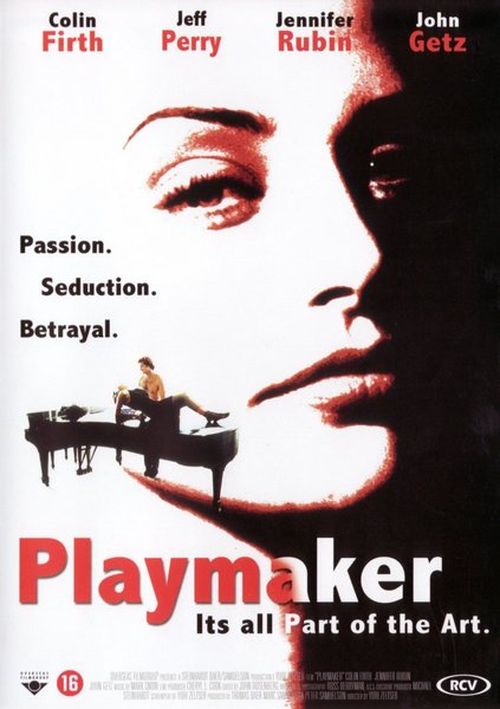 Year: 1994
Duration: 01:31:05
Directed by: Yuri Zeltser
Actors: Colin Firth, Jennifer Rubin, John Getz
Language: English
Country: UK
Also known as: Death Date – Eine tödliche Verabredung; El acto; El creador de juego; Playmaker – Masken der Begierde; Private Teacher; Trama Indecente; Végzetes játék
Description: Jamie Harris, a talented young actress played by Jennifer Rubin (she of the original Obsession commercial fame,) seeks the professional help of an acting coach, played by a young Colin Firth, not knowing that he is an impostor. He is odd and domineering, yet she is convinced that he can help her become a star.  Eventually, Jamie finds files of  murdered students. The coach tries to kill her too, but she shoots him before he can do so.  When the police arrive at the scene, they find a the corpse of a different person, apparently that of the real teacher.  Jamie tries to find the impostor,  who has  become her lover, and discovers that he was just an actor like hersel;  she has just been a puppet on a string. The film has a good if bizarre story together with excellent performances by Firth and Rubin.
Review: I am a long time to find this movie, but still I managed it even in poor quality and odnogolosoe translation. The general impression from the picture in two ways, but generally liked. Since the beginning of the film seems boring, depressing and predictable, but then you realize that it is not. Highly addictive, it is impossible to predict the actions and motives of the characters, all so quickly and spontaneously occur.
In "Playmaker" is a kind of surprise that there are not many films of this genre. There few words and no explanation what is happening, but that does not stop just watching and understanding paintings and replicas quite meaningful. Here the emphasis on human fears, self-doubt, lack of understanding himself or failure. In fact, we can all dramatically change if we can get rid of those barriers that do not allow us to go further, to get rid of fear and become who we really are. Now, if this idea in the film reveal better, but this does not intrigue the viewer, and then abruptly turn the story into a different direction, then maybe it would be more logical end in my opinion.
With regards to the live-action, I was impressed by the role of Jennifer Rubin. This actress I do not know any movie with her participation in my mind does not come, but here she came into the image completely. Colin Firth, too bad, but I think if he played this role now, he would have turned a hundred times better. Apparently, while he was still a novice. A bit parts I do not remember, somehow faded against the background of the main characters and unnatural.
Musical accompaniment pattern unmatched. After all, the music here conveys all the feelings and words are not required.
Review #2: Decided to write a review of this film only because no one before me did not do it. And because the film was evaluated. Peeking make an assessment – from 2 to 10 (agree – a somewhat surprising range of opinions). And then, I'm always sad to meet without the IMDB movie reviews. There is an idea – really nothing interesting in this movie there? And the mass of people needlessly lost at least six months of his life, strength, talents, money, finally?
Some idea of ​​the film can be obtained from the annotation. But I want to add a few words.
"Playmaker" – is, first of all, the title of the film, which is not particularly successful actress Jamie wants to star (played by Jennifer Rubin is very beautiful, and at the same time similar to Sharon Stone and Demi Moore). On the advice of a friend she turns to help acting teacher (in his role as a young and some incredibly kinky Colin Firth). His method of training is fast becoming clear – to shock, confound, put out of balance, break the rules, he – the manipulator. In the words of one of his previous students – maybe it will help you understand what's inside you, it will seem strange to you by man, but you get used to it. As a result of these sessions Jamie loosens up and gets the lead role in the film, but it turns out to be embroiled in a murder investigation of his teacher.
Do not want to describe the plot further and spoil the movie experience to those who will watch it.
Screenshots:
Download: