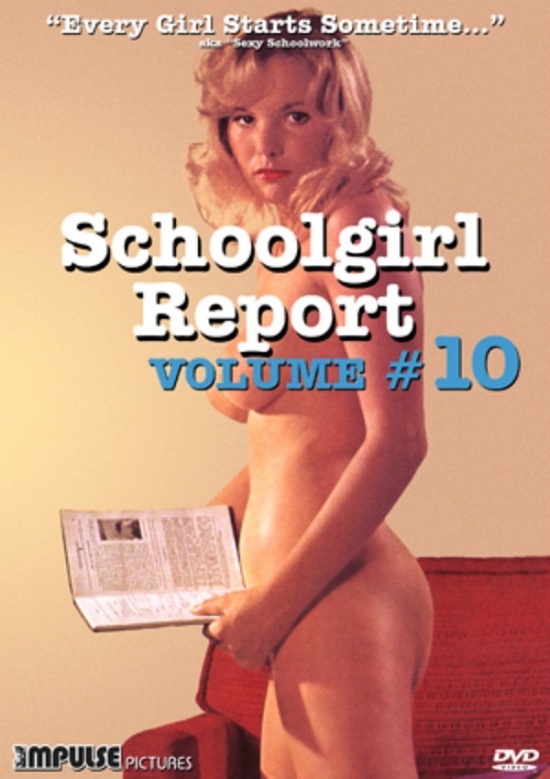 Year: 1976
Duration: 78 min.

Directed by: Walter Boos

Actors:  Eva Berthold, Alexandra Bogojevic, Astrid Boner 
Language: German | English Subs

Country: Germany

Also known as: Campus Teasers, Le svedesi lo vogliono così, Schulmädchen-Report 10. Teil – Irgendwann fängt jede an, Schoolgirl Report 10
Description: Like the rest of the series, Vol 10 is kind of a portmanteau of stories, some sexier and/or funnier than others. The first story is a "he said/she said", sub-"Rashomon" type thing about a schoolgirl who gets in a very compromising position with her English teacher after he agrees to tutor her after hours. The second story features the best-looking girl (Marianne DuPont), but is a fairly pedestrian story of a young woman trying (and trying and trying. . .) to not only lose her virginity, but find true sexual satisfaction. The third story involves a mischievous girl who agrees to give it up to her artist boyfriend if he first agrees to seduce her young stepmother and break up her father's marriage. (This story in particular would have probably worked better if all three actors involved didn't look to be about thirty). The fourth and best story is about a couple who try to get over on the girl's strict parents in a rather novel way–the girl pretends to be possessed by the devil and the boyfriend poses as a priest, and the whole thing turns into a genuinely hilarious parody of "The Exorcist", (and is actually a lot more entertaining than "Magdalena", director Walter Boos' "serious" rip-off of "The Exorcist" a few years earlier).
The last story features the only really recognizable actress, Gina Janssen, a Jesus Franco regular and erstwhile Danish porn star. She's appears in a rather lame tale of a girl who is dumped by her older married lover and gets back at him by going out with his handsome nephew. Janssen and some of the other girls look none-too-svelte here. They're sexy but definitely kind of plus size (although I do prefer to see big boobs on bigger girls as opposed to the surgically enhanced 36 DDs on girls that are otherwise borderline anorexic, which is what we have today). Also, while the earlier actresses in this series like Christine Linberg, Ingrid Steeger, Ulrike Butz, and Marie Ekorre never looked like ACTUAL schoolgirls, they were in their late teens/early twenties and at least were believable as such. This entry though might have been called "Life Begins at 35" because all the actresses, besides being more full-figured, also look to be at least ten years out of secondary school. So while this is definitely one of the more entertaining entries, it's not necessarily one of the sexiest and doesn't really succeed as SCHOOLGIRL exploitation (which is perhaps why Walter Boos went in the exact opposite direction and cast the notoriously young Katja Beinert in some of his subsequent entries in the series).
Still this film is pretty fun and I can't remember the last time I laughed out loud during a sex film like I did with the "Exorcist" story here. . . ~ IMDB
Screenshots
Download