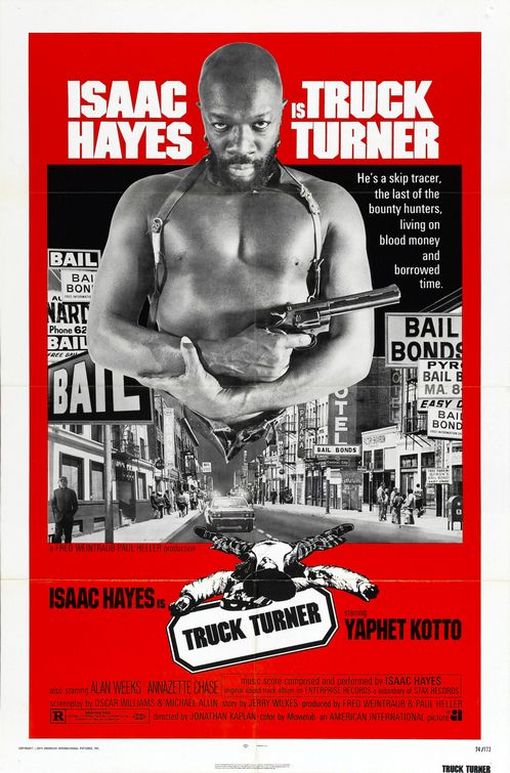 Year: 1974
Duration: 01:31:23
Directed by: Jonathan Kaplan
Actors: Isaac Hayes, Yaphet Kotto, Alan Weeks, Annazette Chase and Nichelle Nichols
Language: English
Country: USA
Also known as: Black Bullet, Bükülmez kabadayi, Chikago Poker, Dusør-bødlen Truck Turner, Kamion Tarner, O mavros dynamitis, Trak Tarner, Truck Turner & Cie., É tempo di uccidere detective Treck
Description: Truck Turner, a former professional football player who becomes a bounty hunter (with his partner Jerry), is looking for a pimp, evades payment of the deposit, in Los Angeles, California. After the shooting, where Truk must use deadly force to kill the pimp, Turner becomes noticeable man and a target for assassins.
Review: Bright representative of the genre «blaxploitation», so beloved to me lately.
Charismatic villains in stunning patent leather shoes and hats , brawls in bars, pool parties , as well as pimping funeral of pomposity and vulgarity that today's man is impossible not to smile ( at the time, probably looked different … ) – it's all here , of course, present. Well, among other things, available in racy Isaac Hayes – a great actor , father of twelve children , the famous musician, chef of " South Park ," and finally , and just "a man and a truck ."
We should also mention the camera work – it is truly gorgeous. Unexpectedly, I found a lot of very original shot scenes from unusual angles , expertly delivered .
In general , I advise you to watch and evaluate yourself as a movie filmed at a time when each of the open windows sounded «Jungle Boogie».
Screenshots:
Download: