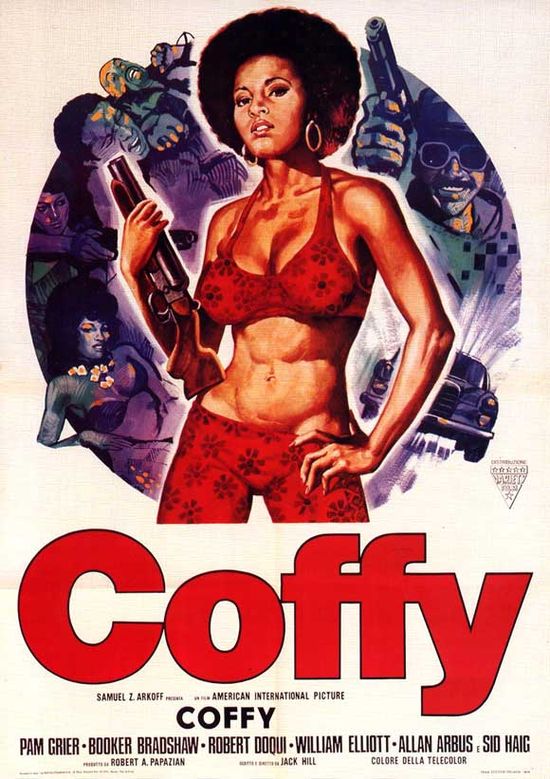 Year: 1973
Duration: 01:30:09
Directed by: Jack Hill
Actors: Pam Grier, Booker Bradshaw, Robert DoQui, William Elliott and Sid Haig
Language: English
Country: USA
Also known as: Coffy – den nådeløse hævner, Coffy – armoton kostaja, Coffy, la panthère noire de Harlem, Belali dilber
Description: A woman, living a normal life and no discernible from the crowd, was obsessed with revenge. She is going to kill everyone who is guilty that her 11-year-old sister lost her mind because of drug use.
Often it's tempting lure their victims, and then carry them to hell with the shotgun who just can't give blunders.
Review: "Strong Coffy" – a 100% interest-bearing blaxploitation film and one of the first roles of Pam Grier (Foxy Brown and Girls in Chains). The plot of this film is as follows: nurse Coffey revenge scum and drug addicts, hoisted her little sister for drugs. Because of the "battered time" prostitute – she goes on the trail of a pimp and dope dealer, and hired him to work. Here then the real fun begins …
The style of the film resembles "Jackie Brown." It becomes immediately clear where draws its "inspiration" comrade QT And he draws it out of just such fun B-movies 70s. Here, for example, the last scene in "Kill Bill" (dialogue Thurman and Carradine) is very similar to a similar scene in "Lusty some coffee."
I can not name «Coffy» trash-film (although I love the trash). It's just a cult thing, you want to know everyone. The film is bright, dynamic and interesting. Pam's character is fully revealed. She is very resourceful and it's just nice to see – a smart woman.
Screenshots:
Download: