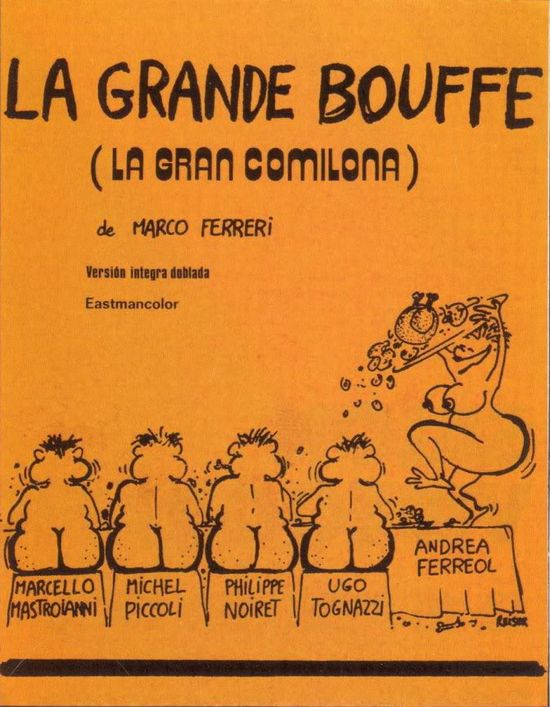 Year: 1973
Duration: 02:09:55
Directed by: Marco Ferreri
Actors: Marcello Mastroianni, Michel Piccoli, Philippe Noiret
Language: French | English subtitles
Country: France | Italy
Also known as: The Great Feed | A Comilança (Brazil)
Description: A race pilot, a television executive, a famous Chef and a powerful judge.
Four friends, sucessful but faced with the crisis of middle-age, decide to retire for one weekend.
They intend to feast on food, drinks and women. No limitations, they want to pleasure themselves to death!
Review: A classic, a momentous movie La grande bouffe that everyone should see, for its symbolic character, and its extraordinary cinematography, cast and script!
"Big Feast," directed by Marco Ferreri – perhaps one of the most scandalous and controversial films of world cinema of the second half of the twentieth century. That is , the film provoked a scandal at the Cannes Film Festival, where , by the way , no matter what , got the FIPRESCI Prize . Audiences and critics were shocked and outraged by the rampant grub four middle-aged friends who , having decided to commit an original way ( gluttony ) , close to the country house of one of them and guzzle , guzzle , guzzle … However, do short breaks for sleep , Urinating natural needs and rampant sex with prostitutes and orgy with astounding looks respectable primary school teacher , who willingly and gladly in all of this is drawn .
Marco Ferreri – a big subversive (along with Pier Paolo Pasolini ) of all universal norms and morality in his film showed very clearly that the line between man and animal purely conventional. It is appropriate to note that Marco Ferreri once completed courses veterinarians, and therefore its entire interest in the instincts , diseases, and behavior of " our little brothers ," he had suffered , however , the study of the human race in the movie.
In the film, a lot of conventions and allegories. Mass viewers perceived the film literally , and therefore screened led many into shock … And yet , the film entered the "Golden fund of world cinema."
Screenshots:
Download: