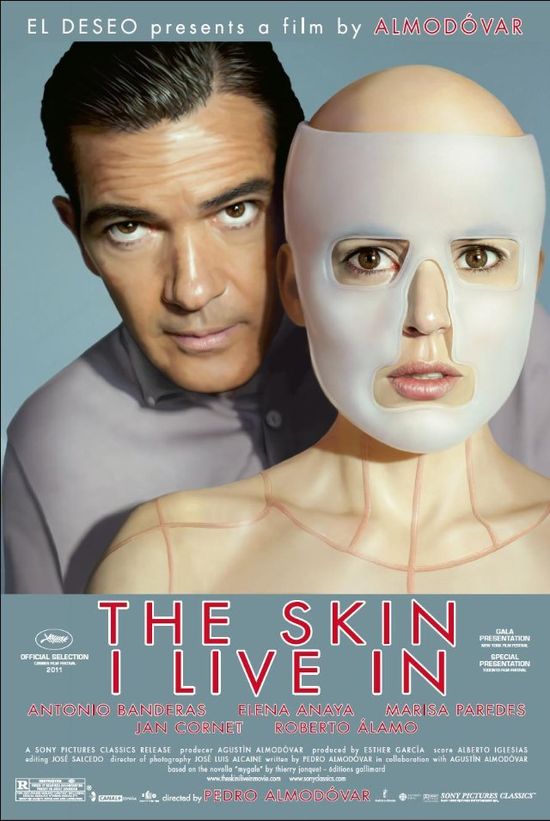 Year: 2011
Duration: 01:55:21
Directed by: Pedro Almodóvar
Actors: Antonio Banderas, Elena Anaya and Jan Cornet
Language: Spanish (Eng subs)
Country: Spain
Also known as: A Estrada, Pontevedra,Ponte Ulla, Santiago de Compostela, Castilla-La Mancha
Description:
A brilliant plastic surgeon (Antonio Banderas who played in Imagining Argentina), haunted by past tragedies creates a type of synthetic skin that withstands any kind of damage. His guinea pig: a mysterious and volatile woman who holds the key to his obsession.
Review: In this world, people hardly defenseless. It could easily lose all that he had in his life. And the only thing he can do in this situation – do not lose yourself.
Dr. Ledgard himself lost. Horrific death of his wife and daughter made light of the global surgery maniac who created vaginoplasty with a toy from the mountain-rapist of his daughter. Soon, however, the newly-born Frankenstein himself becomes a victim of his revenge. And do not even really worried about his prospects with the help of his scientific inventions to people, and care about him only his happy future with a doll he created.
But the unfortunate boy Vincent, who just one large bad luck, however, has managed not to lose yourself, and perhaps, in some way, and find. Despite the fact that he was taken out of his familiar and boring life into a nightmare. And yet, our mad doctor gave Vincent, in a sense a new life. Life, the price of which he now knows well. A life in which yoga replace him pills. A life in which, paradoxically, it is possible to be happy with my girlfriend.
Screenshots:
Download: