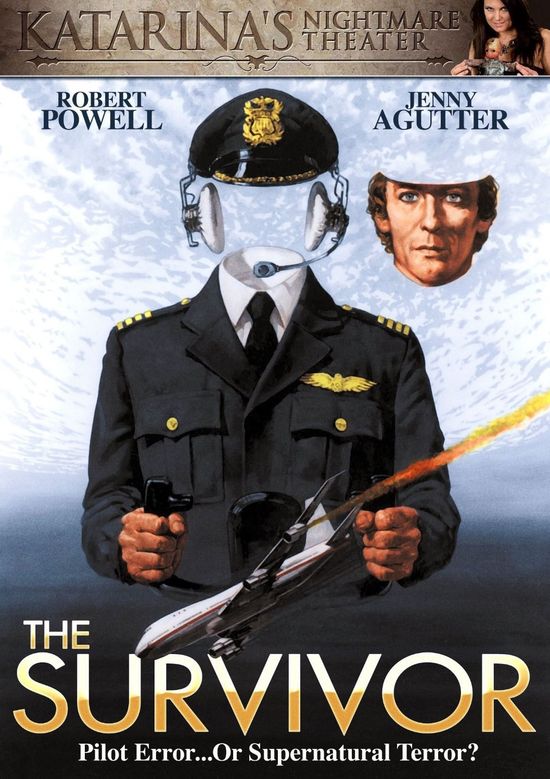 Year: 1981
Duration: 1:22:54
Directed by: David Hemmings
Actors:  Robert Powell, Jenny Agutter, Joseph Cotten
Language: English
Country: Australia
Also known as: Aterrorizante Confronto Final, El superviviente
Description: Here is a rare Australian supernatural thriller, boasting an impressive international cast starring Robert Powell and co-starring Joseph Cotton.  Directed by actor David Hemmings(Blow-up).
THE SURVIVOR is an interesting paranormal variation on the similar film FEARLESS, which also focussed on survival in the aftermath of an airline tragedy. This spooky thriller is based on famous horror writer James Herbert's best selling novel.
Giant airliner with three hundred passengers on Board, was wrecked. The sole survivor was the pilot David Keller, who in the accident received temporary lapses in memory. Trying to figure out the cause of the incident, David seeks the help of the girl-medium, slowly sinking into a real nightmare.
The film "Survivor" was filmed in 1981 Australian film Director and actor David Hemingson based on the novel by writer James Herbert. This mystical horror, which, to my deep regret, not the most famous, though found in 1983, the American remake is the forerunner and "destination", and "Sixth sense", surprising the viewer and a powerful mystical atmosphere, full of viscous horror and mystery, and a very unexpected and philosophical ending. In this picture, the expression "death will not escape" has acquired a special meaning and the film masterfully balances on the line between drama chronicling the experiences of the only survivors, and mysticism, telling about the inability to escape from the clutches of a Lady in Black, because "Survivors" from the outset, should not be taken as a standard horror movie, for the complete absence of genre clichés and original idea turned this picture almost a masterpiece, for it is not so much entertaining movie, how strong drama with light splashes of mystical horror..
Screenshots
Download