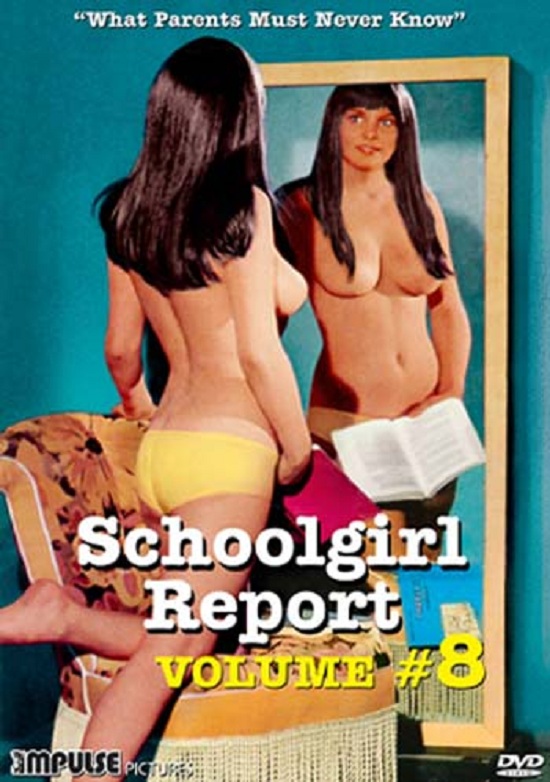 Year: 1974
Duration: 84 min.

Directed by: Ernst Hofbauer
Actors: Manuela Widman, Wolf Ackva, Puppa Armbruster
Language: German, NO SUBS

Country: Germany
Also known as: Naughty Coeds, Schulmädchen-Report 8. Teil – Was Eltern nie erfahren dürfen, Schoolgirl Report Vol 8
Description: I've learned several things watching German "schulmadchen report" series. German high school girls in the 1970's were evidently about twenty years old on the average, and the ones that were overweight, unattractive, or just didn't look good in mini-skirts or short-shorts were apparently expelled from school. These girls were ALL obsessed with sex and talked constantly in sexual double-entendres. They took lots of long, hot group showers where they spent a lot of time soaping each other up. And they threw themselves at pretty much anything in pants regardless of age, gender, or attractiveness.
This movie dispenses with the usual documentary pretensions and focuses on a group of overage "schulmadchen" riding on a bus on their way to camp and telling each other stories about their sexual escapades. The stories/vignettes are less sordid than those in some of the other films in the series, but they're also more pedestrian (and boring). One girl has become pregnant by her boyfriend (yawn). Another girl had an affair with her father's boss to save his job (a little more interesting). In the most ridiculous story two girls try to score some action for their repressed and virginal, but absolutely gorgeous, female teacher (who no man apparently ever tried to hit on before–yeah, right). The best story though involves two cousins who are skinny-dipping when a horny fisherman spies them and takes their clothes. He ends up chasing the two butt-naked nymphs through the woods, big boobs a-bouncin', until they run into two boys their own age who take care of the the lecherous fisherman, but exact their own tribute, which the two girls are naturally only too willing to provide. . .
Eventually the bus actually arrives at camp, and everyone takes a long, hot shower together, and then various girls take turns throwing themselves at the one handsome male chaperon–poor guy. (If it wasn't for the 1974 release date, and the fact that there are no virgins in sight, I'd swear this part of the film was a rip-off of the American Kristy McNichol-Tatum O'Neal camp-site classic "Little Darlings"). Anyway, stupid as it is, this movie certainly succeeds as sexploitation. It may disappoint the hardcore perverts out there that these actresses are not remotely believable as actual "schulmadchen", but they are definitely a vast improvement over the silicone-enhanced porn-skanks you'd find in films like this today. Recommended I guess (yeah, why not?) ~ IMDB
Screenshots
Download