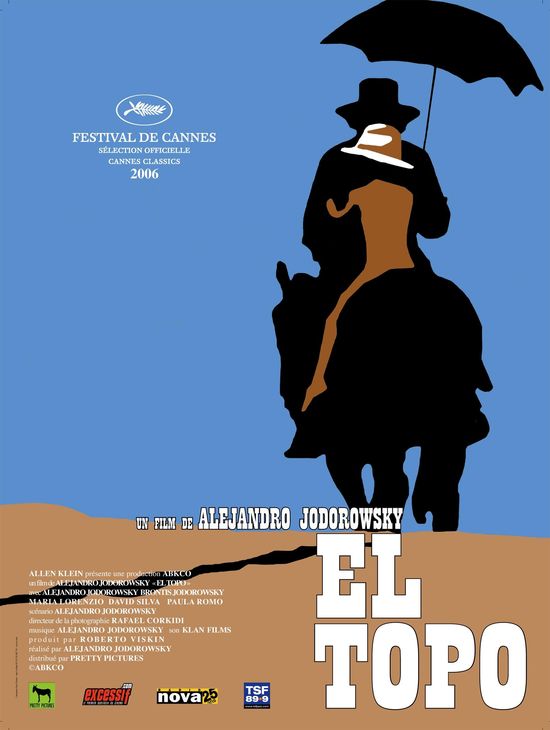 Year: 1970
Duration: 02:04:35
Directed by: Alejandro Jodorowsky
Actors: Alejandro Jodorowsky, Brontis Jodorowsky, José Legarreta
Language: Spanish
Country: Mexico
Also known as: The Mole, The Gopher, Kret, A Vakond,
Description:
One of the ultimate midnight movies, Alejandro Jodorovsky's El Topo (The Mole) plays out like an epic, surreal Western. Cult director Jodorovsky, who wrote the film's script and score, also stars as the title character, a gun slinger whose often violent adventures take on a bizarre and spiritual quality.
The film starts like a classic Western, with El Topo clad in black leather riding a black horse through the desert, a naked child clinging on behind him (played by Jodorovsky's actual son Brontis). The first part of the film sees El Topo take on the Colonel, a bad guy responsible for a bloody massacre, who is eventually castrated and dispatched by El Topo in great bad-ass style. El Topo even rides off with the Colonel's woman, a long-haired hippie the gunslinger renames as Mara.
The next part of the film ramps up the religious, philosophical and spiritual imagery, with El Topo sometimes appearing like a Jesus or Buddha figure as he goes on a mission to kill four master sharpshooters who live in the dessert. The final third of the film starts with El Topo waking from a slumber of many years, apparently reincarnated after his downfall at the hands of Mara. He becomes a Christ-like figure who must liberate a community of dwarfs and cripples who looked after him during his hibernation.
Released in 1970 in a limited run at a lone cinema in New York, El Topo was initially only screened at midnight because as the cinema ads announced it was "a film too heavy to be shown any other way". The movie soon became a counterculture blockbuster through word of mouth. It was only after rave reviews from hip audiences such as John Lennon that El Topo had an English language dub made and received a wider release. The film's cult success financed Jodorovsky's next cinematic trip into the surreal, Holy Mountain.
In General, if to speak about interpretation of Jodorowsky (director of Fando and Lis and Holy Mountain movies) religious material, it should be noted that this interpretation is not always sweet and innocent. in most cases, we see blasphemy that immediately removes from potential audience deeply believing people.
«El Topo» is not widespread film. This is purely the author's film, which is intended primarily for people who like to analyze what is on the screen. Rigid, carricatur violence interspersed with sexual scenes harmoniously combined with philosophical reflections on the spiritual development of man.
The title of the movie is not accidental. Cinema in the 60 – ies and 70 – ies, like the main character, was reborn, as if making his way through a thick layer of earth and threw on large screens forbidden techniques and themes available only in the low-budget and independent films that played in cinemas cheap. And it is in such films originated the idea that Hollywood uses to this day.
Screenshots:
Download: