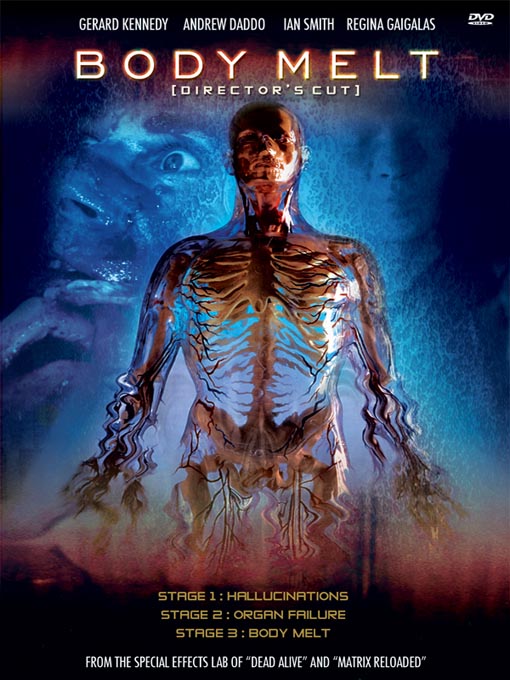 Year: 1993
Duration: 01:19:10
Directed by: Philip Brophy
Actors: Gerard Kennedy, Andrew Daddo, Ian Smith, Regina Gaigalas and Vincent Gil
Language: English
Country: Australia
Also known as: Body Trash, Corrosão – Ameaça em Seu Corpo
Description: Postmodern horror about strange trials of the drug in one Australian Private Hospital. Subjects – ordinary patients who were unaware of doctor's actions, so died unexpected with shocking deaths
Review:
A modern Australian horror with some creative special effects for the early 1990s, Body Melt concerns the strange drug trials of a private health clinic. The movie hooks you in from the beginning as we see the unfortunate gory side affects of this drug on unsuspecting people going on about their daily life. Lets just say these poor people come to a sticky end rather quickly.
The series of strange and hideous deaths have two police officers initially baffled, but the trial soon leads to a private corporation that manufactures drugs and runs a health clinic in the countryside. Director Philip Brophy created a sometimes surreal, in turns funny splatter horror where the plot isn't as important as the presentation of a crazy, irrational dream. At times the film feels like an early Peter Jackson horror, and also features creative camerawork and eye-catching special affects.
The acting also isn't bad. Considering that most of the film consists of horrific deaths and other strange scenes, the acting becomes a secondary consideration anyway. The movie is also an interesting satire of the modern medicine industry, which has had its fair share of scandals related to new drugs, though none quite as bloody as Body Melt.
"Body Melt" part is even a satire on the world of medicine, but I still recommend this film to all the true fans of the original quality and trash.
Screenshots:
Download: