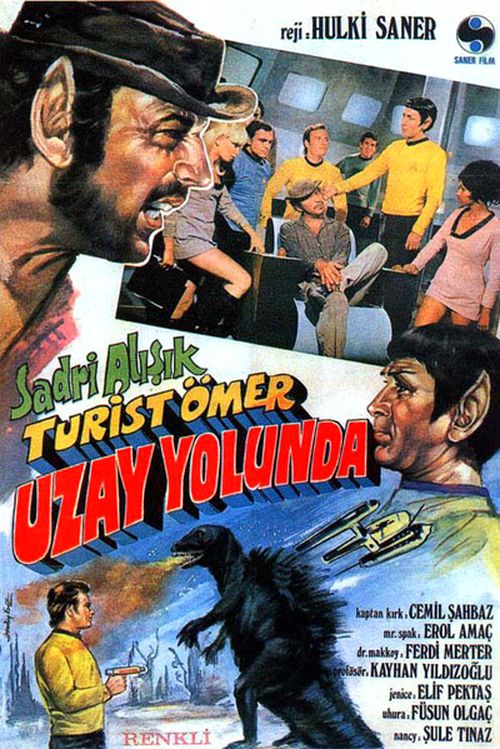 Year: 1973
Duration: 01:11:08
Directed by: Hulki Saner
Actors: Sadri Alisik, Erol Amaç, Cemil Sahbaz, Ferdi Merter
Language: Turkish
Country: Turkey
Also known as: Turkish Star Trek, Ömer the Tourist in Star Trek

Description: This Turkish version of Star Trek is a complete rip off of the original Star Trek series, only the main character in this is a lecherous drunk accompanied by an entire soundboard of wacky effects. Everything about this film is below Z-grade.

Fantastic Turksploitation Star Trek rip off!! A must see for fans of
the original.
Plot: I have no idea! There are no subtitles with this movie and
I don't speak Turkish. I've watched it a few times and it seems
to be about a gypsy and woman/werewolf that falls in love with
Spock.
Actually, it is a part of the movie series "Omer the Wanderer", with Omer as the main protagonist of the series. The movie is titled "Omer the Wanderer in Star Trek". In this movie, Omer is accidentially teleported to the Enterprise and travels with the crew. During their journey, a shape-shifter type alien organism who survives by devouring salt enters the ship and devours the ship crew one by one (extracting the salt out of their bodies with her/his hand movements. This alien also has the power to take the form of others. The crew together with Omer defeat the alien and finally a happy ending with Omer returning to Earth 🙂
This movie is very famous in Turkey with the phrase "Mr. Spock has donkey's ears"-something which Omer repeatedly says to Mr.Spock in the movie
Screenshots
Download