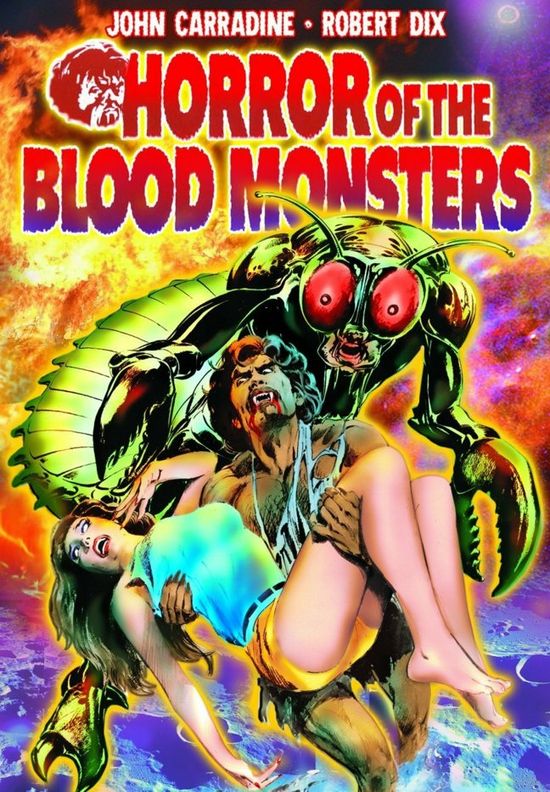 Year: 1970
Duration: 1:25:18
Directed by: Al Adamson
Actors: John Carradine, Robert Dix, Vicki Volante
Language: English
Country: USA
Also known as: Blood Creatures from the Prehistoric Planet, Creatures of the Red Planet, Space Mission to the Lost Planet, Vampire Men of the Lost Planet

Description: Set in the future, Earth has fallen to a kind of vampiric plague that appears to have an inter-galactic source. With humanity falling victim to it and extinction of the human species looming, a mission is launched into the nethers of space to try and find the source of this plague.
Unfortunately for the crew, the mission goes awry and they force-land on an earth-like planet. There they find two species of human-like beings – the peaceful cave-dwelling Taganis and their enemies the bloodthirsty and vampiric Tubetons who are always feasting on the Taganis. The crew communicates with one of the Tagani women by manipulating her brainwaves and try to find a way to convert the crude oil running through the caves into something usable for the relaunch of their spaceship. In the meantime, they also explore the planet further and discover a lot more creatures share the planet including some dinosaur-like bat creatures.
Dinosaurs from "One Million BC", Vampire Cavemen from some bizarre filipino movie called "Tagani" and presumably the amazing out of this world space effects were borrowed from "The wizard of Mars"
This epic adventure follows our heroes on a trip into another solar system to try and find out about a strange vampire plague that threatens to destory earth. They are forced to land after problems with their ship, luckily they find a planet with an atmosphere exactly the same as earths! Well except for the "Chromatic Radiation" with causes the black and white stock footage of cavemen to take on different and amazing colours. On the alien planet our intrepid adventurers encounter dinosaurs, crabmen and terrifying batdemons!
Probably my favorite Adamson film you'll be sure to marvel at the incredible special effects and seemless editing in of stock footage.
Look out for :
Hilarious dubbing of the cavemen.
The amazing explanation of the "Chromatic Radiation"
The adavanced disembarkation system of the spaceship.
The futuristic sex machine.
Screenshots
Download