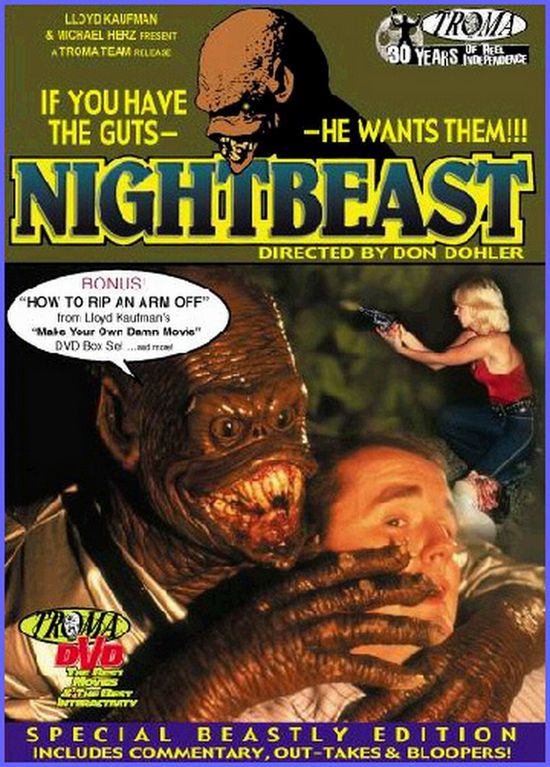 Year: 1982
Duration: 01:21:10
Directed by: Don Dohler
Actors: Tom Griffith, Jamie Zemarel, Karin Kardian
Language: English
Country: USA
Also known as: Nacido en la noche, Terror from the Unknown, Nightbeast – Terror aus dem Weltall
Description: Donald Michael Doller – known figure of low-budget films, and also the creator of the log – tutorial for novice filmmakers , special effects Cinemagic Magazine. Since the late 70 's, he took some excellent bands that enjoy sustained popularity among fans of the genre. It is noteworthy that all of their netlenki director shot in the backyard of his home in Baltimore.
Painting " NightBeast" director shot in collaboration with the Troma Team. Usually Doller do not like the emphasis on blood and nudity , but in this film, like "good" enough. So lovers of trash- production studio Troma will not be bored .
Pleasantly pleased eyes alien monster mask for which Don Doller did he , like most of the costumes for the heroes of his films.
As always hallmark movies Doller is unchanging George Stover . The mayor played by Richard Dizela and Tom Griffith , known by the early works of the director. In the picture there is even an erotic scene with the sheriff , played by Griffith .
After the " Factor of others ", "NightBeast" – my favorite film Doller . And the presence of " ketchup " and other trash- charms gives the painting a nice spice .
Screenshots:
Download: