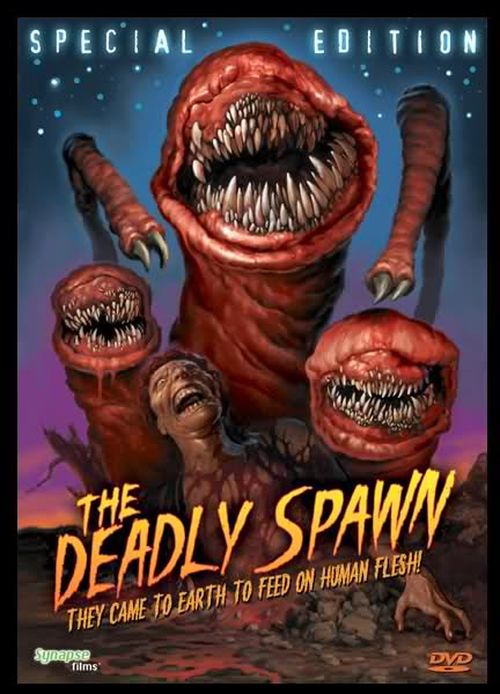 Year: 1983
Duration: 01:21:29
Directed by: Douglas McKeown
Actors: Charles George Hildebrandt, Tom DeFranco, Richard Lee Porter
Language: English
Country: USA
Also known as: Deadly Spawn, Kosmokiller – Sie fressen alles, Kosmokillers, La chose, O Retorno de Aliens – A Geração Mortal, Return of the Alien's Deadly Spawn, Return of the Aliens: The Deadly Spawn, The Alien's Deadly Spawn, The Deadly Spawn
Description: Two tourists have witnessed the fall of the meteorite, and, of course, paid dearly for their curiosity, they were attacked by a bloodthirsty alien. Not far from this place there was a house, and space visitor decided to spend the night in the basement. For breakfast, a sprawling monster with many his children ate a married couple living in the home, and decided to eat on a lunch some inhabitants of the house, the benefit is that there lived not one but two families! However, "lunch", which consisted of several "foods", decided to take on the aliens and to dinner deal is not reached, although the last word still remains for the alien visitors ..
Review: It's amazing how awesome this movie is, for something created on an extremely low budget. This film is proof that when you have skills, you can make a true horror film, without a bazillion dollars. The creature/Monster looks absolutely insane. I love it.
A very good film in the genre of horror. That does not leave the viewer without experience. The film is well thought out. Action film is as follows. Meteorite falls to Earth, which show two tourists. That followed, attacked the terrible alien. Not far from the crash site, a house, and decided to spend the space monster in his basement. For breakfast, eat a married couple living in the house. However, in this live two families. And for dinner, a stranger decided to eat the other inhabitants of the house. `Only` lunch, which consisted of not one dish, decided to take on the alien creature. Before dinner is a thing did not happen. But this is not the end. And the stranger soon again will have its say.
Of character is what you want to say. Alien monster looks awesome. Very voracious and can grow to enormous sizes. He also brings to light small voracious creatures that are no less dangerous than he.
About the game that's what actors will add. With a monster fight will be young people. Where is the youngest of them, a very good show itself. Director's work, in my opinion is well thought out. Good shows monster people have proved effective. And very pleased with the ending.
The atmosphere is great! All the time a lot of blood, all the time of tension, and then someone – some devour. The film itself is fascinating. And the ending of the film, yet no less impressive.
In conclusion, this is what I want to say. The film itself is a masterpiece! Just forgotten. But horror fans watch it definitely worth it. This is one of the best films about monsters! Personally for me, it made a big impression. But I warn you! If you have weak nerves, the movie you'd better get round.
And fans of horror monsters, Have fun!
Screenshots:
Download: