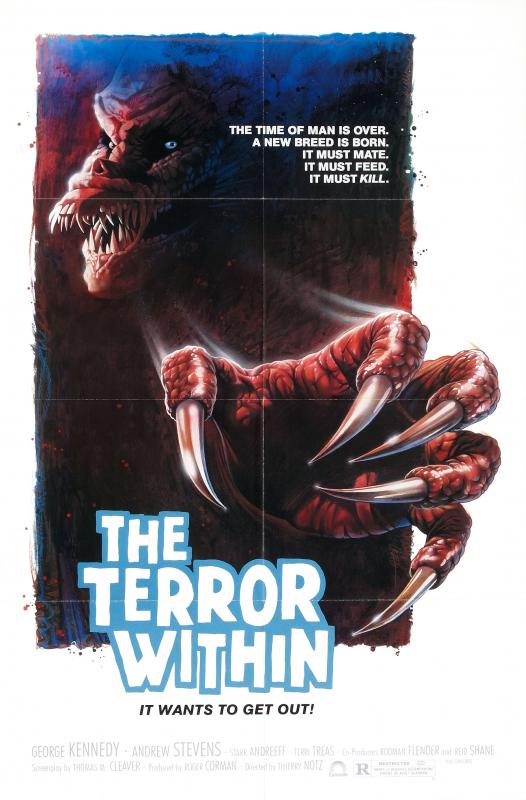 Year: 1989
Duration: 01:27:57
Directed by: Thierry Notz
Actors: George Kennedy, Andrew Stevens, Starr Andreeff                         
Language: English
Country: USA
Also known as: Good Night Hell, M.N.I. Mutants non Identifies
Description: After a plague has killed off humanity or mutated them into ferocious "gargoyles," scientists moved into underground barracks.  And while they might be safe from the mutants trying to scrape by out in the desert above, nothing can protect them from:
The Mutherfuckin' Terror Within, Mutherfucker!!!!
The flick is yet another Corman Alien rip-off, but this one has a post-apocalyptic setting and the aliens like to rape chicks. While both twists seem to me to be an improvement on the basic story, the flick is still kind of sucky (but entertaining).  Andrew Stevens plays the super serious hero with a crossbow.  George Kennedy (the actor from Just Before Dawn film) plays George Kennedy.  Star Andreef and Terry Treas play unfortunately clothed but appropriately hysterical hot chicks.  And the black guy plays a black guy who looks tough in a few scenes and then gets killed.  Also there's some good gore and a rubber suited monster.  So all the important elements (other than gratuitous mammaries) are present.  If you're looking for a Corman Alien rip-off with gratuitous nudity then you'll want to download Forbidden World instead.
Review: «The Terror Within» is the medium through horror
The movie has an interesting name, able to attract many fans of horror. The plot is also intriguing. A post-apocalyptic time. After the disaster survivors hiding in bunkers. And on the surface around the mutants called Gargulies. It should be noted that in the film a lot of similar elements with the movie «Alien». This scene with a pregnant woman (in a «Foreign» scene where the monster coming out of the person), and search of the monster in the bunker (in a «Foreign» on a ship). In the film, sometimes emerges tense atmosphere. A terrible scene only one.
Monsters Monsters will show often. They are Mutants-the Gargoyles. They are stronger than the man several times and have solid skin. Also they are relatively reasonable. But even they have their own vulnerabilities…
The film has its drawbacks. But they are insignificant to mention. If considered the film as a medium of horror, then it's rather good.
Screenshots:
Download: