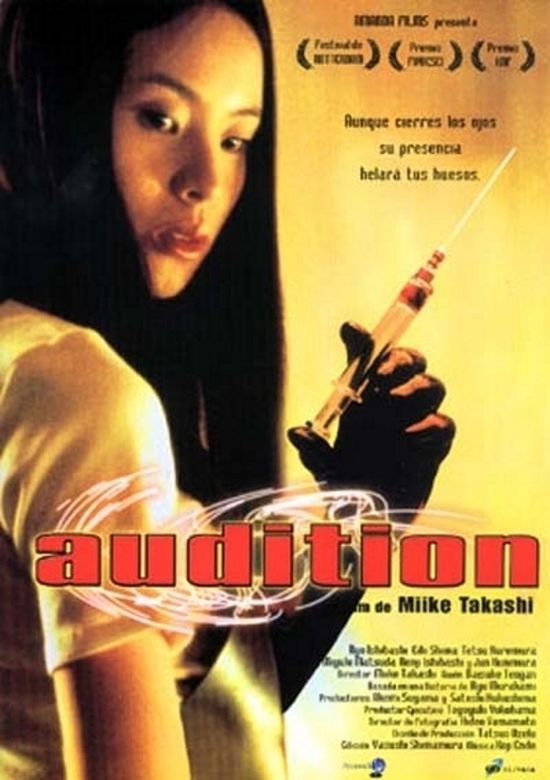 Year: 1999
Duration: 01:55:36
Directed by: Takashi Miike
Actors: Ryo Ishibashi, Eihi Shiina, Tetsu Sawaki and Jun Kunimura,
Language: Japanese (English subs)
Country: Japan
Also known as: Ôdishon, A Entrevista, Anjo ou Demónio, Oodishon
Description: Aoyama is a widower in Tokyo who raises his young son  alone. Seven years after his mother's death, the now- teenage son asks his father, now middle aged,  why he does not remarry. Aoyama meets his friend  Yoshikowa, a film producer, and tells him that he intends to remarry, but has difficulties  finding appropriate, available women to date.  In order to do so, he and  Yoshikowa   organize a sham audition to cast an  actress for a fake movie. They receive numerous  applications for the role, among which is the application of the beautiful Asami Yamazaki. Aoyama calls Asami for a date and falls in love with her. But who is the mysterious Asami?  The last portion of the movie, which answers this question, is sadistic, violent, and gruesome.
Review: If you decide to get acquainted with the work of Takashi Miike (Visitor Q and Ichi the Killer), starting with the movie "Audition", perhaps it is a good idea. The question is, do you want to get acquainted with the work of, or not. I say this because the films Miike, the same treacherous and unpredictable, like his heroes. More precisely, even to say heroine, whose cunning, as I thought, not inferior to any one painting Asian filmmakers. I thought that of all Asian cinema, which has been seen by me, the most exciting film was, is, and always will be the famous "Oldboy" Pak Chan-wook. But "Audition" Miike forced to reconsider its opinion on this matter.
First it should be noted that the scenario prepared already known to our public Ryu Murakami (not to be confused with the namesake Haruki Murakami). Contemporary writer and film director by the way. However, the cinema, as Murakami is much less known than the literary, and he is known primarily as a writer. What is even more about the quality of the script was written for the film.
Secondly, "Audition," Miike is not the first of 89 films directed. Through this, you can see the complete job on the movie's mature.
Now as for the subject itself. Man, seven years ago, lost his wife, decides to find a new life partner. With the help of a friend, close to show business, he has organized a screen test, which actually become the bride of girls. He finds what he was looking for. Similarly, he thinks.
This story is a seemingly very simple, and I want to believe that the words of the protagonist – "once we realize that life is beautiful and amazing, because it is life itself" – true. Only the development of the story tells us a different story. In life, you always want to find a man "is not such as everything." Human ideal in every way. Just search for "not like everyone else", lead to the eternal "all is not gold that glitters." Of morality can not escape. In addition, watch a movie, we understand that a bad childhood can greatly affect the future of everyone. While this is not all that memorable after watching "Screen Tests."
Let's return to development. The film consists of four genres – drama, detective, thriller, horror. In my opinion it and made it exciting. More precisely, once again, it was able to make great director. It should be noted the work done professionally on the story and pictures with confident game genres. Early in front of us turns the usual drama, or should I say drama, which was a good exposure to the film and its eyeballs. After starting the explicit detective who boldly flows into a thriller in development activities. And in every sense of the genre – "awful" climax. If you wanted to know, and even better to see what the "female sadism", here it is enough. That, incidentally, is why the film "Audition" and recalls the famous painting of revenge – "Oldboy." Only here, "Audition" was filmed four years earlier. What can a standing ovation last scene of the movie. Well, or turn away from the screen. It's whatever you like.
Perfect alignment of the composition, with absolutely intense, and I would even say "explosive" climax makes this film at the same time very clear, in terms of drama, other times very unpredictable with the filing of a director.

Screenshots:
Download: