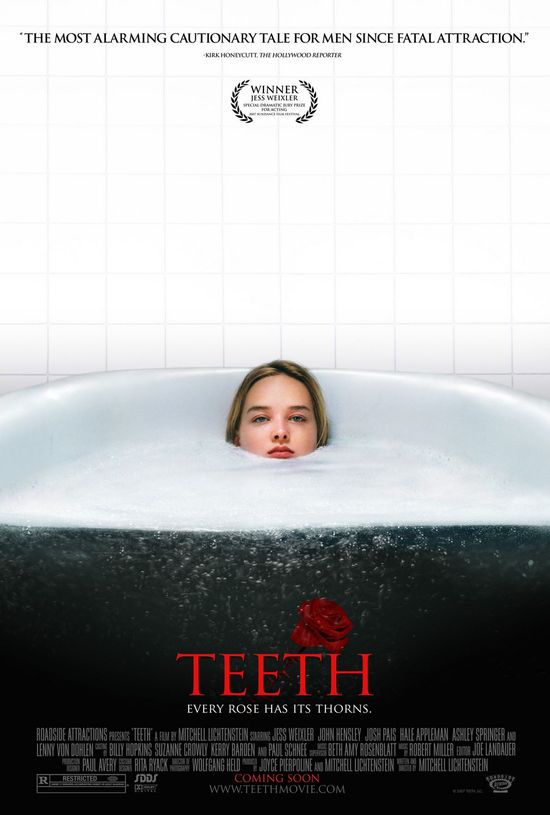 Year: 2007
Duration: 01:34:00
Directed by: Mitchell Lichtenstein
Actors: Jess Weixler, John Hensley and Josh Pais
Language: English
Country: USA
Also known as: Dagose me, Dentes, Denti, Dontia, Mély harapás, Teeth – Wer zuletzt beißt, beißt am besten, Vagina dentata, Zubi
Description: At the heart of the myth stands vagina dentata, the vagina with teeth, moved into American wilderness today. A natural mutation was found at a diligent and chaste schoolgirl when, during the first sex she accidentally castrates and kills her boyfriend. The main actress does not know what to do with her own nature, which eventually reconciled with her. And now she using her body in the fight wih male chauvinism.
Review: Teeth – the perfect movie, which I can describe in three words, but I promised myself to write this review without a mat.
Teeth – a story of growing up does not stand a teenage girl Dawn. As a young child, her mother took up with a man who had a son with a slightly odd character. The boy from childhood scar on the index finger, but we shall return to this later. And now, children are supposed to 14-18 years, and if the character appears on the 14, the half-brother of reason on 26. Don is a club of abstinence and pushes tupeyshie world speech from the stage school, and the crowd listening and being hamster. Oh yeah, I forgot to mention one detail: the Don from birth, there is an extra set of teeth. In her vagina.
In fact, after the description and trailer, I thought that this would be the worst film in the history of humanity, and I do not inspection. But the thing is jumping to conclusions. I am sure many of it not even heard of and did not dare to look, after reading the description. Teeth – fun and flowing, not without flaws, the movie. I have serious objections to inappropriate soundtrack. It's not cool to show how cute girl rides a bicycle under the pseudo-rock for the student, played by deaf group. There are certainly plot hole (sounds funny, does not it?) And join. Although, this is more easter eggs from the writer. The film did not answer the question of where the guy mini vibrator that is worn on the finger. But it shows that this guy can not be trusted.

Screenshots:
Download: